Simone Biles Helps Teammate Fix Her Hair In Sweet Viral Video
by Madison Vanderberg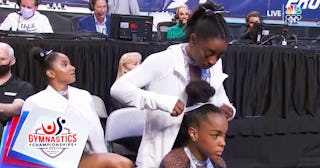 NBCOlympics/Twitter
Simone Biles helps her younger teammate do her hair during the U.S. Gymnastics Championship
Not only is Simone Biles the GOAT, but she's also helping guide the next generation of young U.S. gymnasts and we cannot get over the camaraderie and sisterhood on display in this sweet video of Biles tying a ribbon in 16-year-old Zoe Miller's hair during some downtime at the U.S. Gymnastics Championships.
Miller — whose USA Gymnastics profile adorably states that she got into the sport because "my mom signed me up" — is seen waiting for her turn to compete as Biles sits her down and makes sure that her hair ribbon is perfectly in place, and I'm calling it one of the sweetest moments in sports history ever.
Speaking about the kind gesture after the event, Biles told reporters that "it's meant the world, especially having the younger ones to kind of guide through the way. I've been here for so long, so to be a mentor for them has meant everything to me, and to share these accomplishments and these goals."
Biles has become the unofficial big sister of Team USA, always there to provide emotional support.
One of Biles's other teammates Jordan Chiles recalled (via Today) that during practice for the championship, Biles gave Chiles such an emotional pep talk that it left them and their coach in tears.
"[Biles] was telling me I deserved what I just did and I'm gifted and talented and I have the opportunity to make that [Olympic] team," Chiles shared.
The 24-year-old athlete not only helped out her younger teammates at the U.S. Gymnastics Championships in Fort Worth, Texas over the weekend, but she went home having won her record seventh women's all-around gymnastics title, because she is actually unstoppable. That puts her officially ahead of six-time winner Clara Schroth-Lomady, and makes her the new most decorated gymnast in U.S. history.
Next, Biles will compete in the Olympic trials from June 24-27 in St. Louis, Missouri, where she is expected to advance onto the Olympics, taking place in Tokyo next month. Her teammate Chiles is also expected to advance to the Olympic games, as well. CBS News reports that once at the Olympics, Biles will try to become the first woman to win back-to-back Olympic championships in more than 50 years.
Biles is making all sorts of historic moves lately. At the U.S. Classic last month, the five-time Olympic medalist nailed the Yurchenko double pike, a feat no female gymnast has ever achieved in a competition.
Next week her Facebook Watch series Simone vs. Herself drops. The seven-part docuseries series follows Biles as she prepares — physically, but also mentally — to compete in her second Olympic Games after a year of waiting when the Olympics were postponed due to the pandemic. And then, it's on to the Olympics!
They really don't call her the GOAT for nothing.