Simone Biles Tearfully Slams USA Gymnastics: 'You Couldn't Protect Us'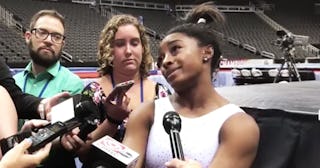 Olympic Channel/Twitter
Simone Biles did not mince words when discussing USA Gymnastics' role in enabling her and her teammates' abuse
Simone Biles made history over the weekend as the first woman to ever execute and stick a triple double in competition. The world cheered her on, but it was a bittersweet moment for the Olympian who continues to bring victory and glory to USA Gymnastics, the very same organization that enabled her abuser Larry Nassar and turned a blind eye to her, and countless others pain.
Biles admitted in January of last year that she was sexually abused by Nassar, the team's sports doctor, and tearfully admitted to reporters at the US National Gymnastics Championships in Kansas City that the trauma has made it difficult for her to even go to the doctors now and that she cannot wrap her head around the fact that USA Gymnastics essentially allowed the abuse to happen.
"You had one job," Biles told Olympic Channel about USA Gymnastics. "You literally had one job and you couldn't protect us and it is just really sad because now every time I go to the doctor or training, I get worked on. I don't want to get worked on, but my body hurts, I'm 22 and at the end of the day that's my fifth rotation and I have to go to therapy."
We can't even imagine not just dealing with PTSD, but having to to go to work with the organization that enabled your abuse for so many years.
"It's hard coming here for an organization, having had them fail us so many times, we had one goal, we have done everything that they asked us for, even when we didn't want to and they couldn't do one damn job," she added. "It's just hard, and we try to work through it. It will take some time. I'm strong. I'll get through it, but it's hard."
250 girls accused Nassar of sexually assaulting them during medical examinations. He is currently serving a life sentence. As for USA Gymnastics, they were ordered to be "decertified" back in November 2018, though it has yet to happen.
Rachael Denhollander, a former gymnast and the first person to publicly accuse Nassar of abuse, said that it's unfair that Biles has to continue to represent them on her quest to return to the Olympics.
"[Biles] shouldn't be saddled with that weight, but she's handling it with incredible grace," Denhollander told ABC News. "Her voice has a lot of power, and I hope she feels that, and she deserves that; she has earned that power."
This article was originally published on