The 'Sing 2' Trailer Looks Like An Absolute Dance Party
by Madison Vanderberg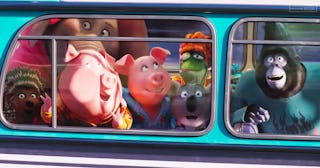 Universal Pictures and Illumination
The Sing 2 trailer brings back your favorite musical mammals and top 40 hits
A movie about a bunch of animals competing on an American Idol-type reality show has no right to be as good as it is, and yet, Sing exists and is literally a perfect movie. Universal Pictures and Illumination have released the official trailer for the forthcoming sequel to 2016's Sing, the little movie about a bunch of musical mammals that stole our hearts and jammed out to radio hits.
Simply titled Sing 2, the sequel sees the gang putting on a big show in a Vegas-type city as they are put to the task of asking an iconic rock singer to come out of retirement and perform with them one last time.
Right off the bat, the trailer opens with a Bush Baby singing a Billie Eilish hit, followed by a couple of little birds taking on an Eminem classic, which goes right into a Drake cover. I've seen 10 seconds of the trailer and already, Sing 2 is killing it.
U2 frontman Bono plays the grizzled rock star lion Clay Calloway, marking Bono's big animated film debut.
Leading the cast of voice actors are screen icons like Matthew McConaughey, Reese Witherspoon, Taron Egerton, and Scarlett Johansson, and singers like Tori Kelly and Pharrell Williams, who along with the rest of the cast of singing critters must prove they have what it takes to showcase their talents at Redshore City aka the animal kingdom's Sin City. However, to pull off the most epic performance, McConaughey's koala, Buster Moon, must track down rock legend (and current recluse) Clay Calloway, voiced by the iconic Bono (in his animated film debut, by the way), if they want to perform in the big show.
"What begins as a dream of big-time success becomes an emotional reminder of the power of music to heal even the most broken heart," according to the film's official synopsis.
"Sing louder. Dance prouder. Dream bigger. This is your moment," goes the film's mantra.
The movie's official Instagram account shared a video on June 24, 2021 featuring the entire A-list cast. The cast members hyped up the film, asking fans if they're ready for the trailer, which wraps up with Parks and Recreation star Nick Offerman deadpanning to camera, "Please enjoy this new trailer, which is actually just a shorter version of the movie."
If Sing 2 is half as good as Sing, it's sure to be an absolute dance party. Sing 2 is scheduled to hit the theaters this December 22, making it the perfect Christmas Day movie outing.