Single Dad Adopts Teen Boy After Family Abandons Him At Hospital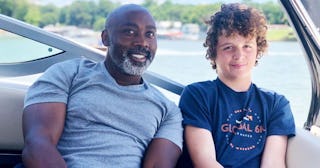 Courtesy of Peter Mutabazi
The young boy was abandoned by his parents at a local hospital with no explanation two years ago
Last fall, a single foster dad officially adopted a young teen boy in Charlotte, North Carolina. Tony Mutabazi had been completely abandoned by his previous adoptive parents at a hospital when the boy was just 11 years old, with no explanation and never returned.
Peter Mutabazi, who has been a foster parent for three years, was only supposed to take in young Tony for a couple of days. Then he learned about Tony's story — he had been in the foster care system since the age of two — and couldn't let him go.
"He's the nicest, smartest kid I've ever had," Mutabazi, who originally told his story to Love What Matters, tells Good Morning America. "From day one, he's always called me 'dad.' He truly meant it and he looks up to me. He's proud to show me at school and say, 'Hey, he's my dad.' That's something that I love about him."
Once Peter knew the previous parents had signed their rights away, he says he cried for the poor boy they abandoned. "I thought, 'Who would do that?'" Mutabazi says. "Once I knew the parents' rights were signed off and he had nowhere to go, I [knew] I had to take him."
Mutabazi grew up in Uganda, and ran away from his own abusive home at the age of 10. He credits a "parent figure" for guiding him through school and setting a good example for him.
"They became my sponsor, my family. I grew up the poor of the poorest people on the planet," Mutabazi says. "I grew up where no one told me to dream, that there was no future for me." Once he moved to the United States and became a citizen, he knew he wanted to pay it forward by working with World Vision United States. The nonprofit humanitarian organization helps children living in vulnerable areas. He's fostered 12 children in the three years he's been a foster parent.
Once he met Tony, however, he knew he wanted to become his father in every sense of the word. "I had the room, the resources, so I had no reason to let him go," Mutabazi said. "For what someone did for me I wanted to do something for someone else."
Social worker Jessica Ward, who works with Angels Foster Family Network in Edmond, Oklahoma, said she helped facilitate Tony's adoption, which was eventually finalized when Mutabazi and Tony moved from Oklahoma to North Carolina.
"[Tony] had some issues that he was dealing with from foster care and trauma when he was abandoned, so Peter know once he took him in, that was it," Ward tells GMA. "Peter's story all around is beautiful and amazing. Because of the age Peter was when all of the things happened in his world, I feel like that's been such a connection for him and Tony."
Peter tells Scary Mommy he knew Tony would have some trauma to process after being abandoned, and didn't want him to end up in a group home because of his age. "My heart could not let him go that route, at this point I knew I had to step in and change the course of his life," he says. "I know most foster parents want younger kids yet the system is full of older kids, at this vulnerable age how could we forget them? Tony has been the most amazing teen, and I hope people step in to change lives especially for the teens in the system."
This article was originally published on