Single Dad Erotic Fiction Is A Thing And We Have So Many Questions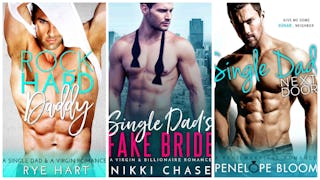 The new romance novel star is the single dad
Do you prefer your erotic fiction with a dose of responsibility and the complication of custody issues? Do you fantasize about going out to dinner with a hot stranger who asks you to pay because he has to cover his child support payments? Do you dream of getting hot and heavy with your boyfriend only to be interrupted by…his child? Then hoo baby are you in luck, because single dad erotic fiction is a thing and we are about to give you all the sexy "you're not even my real mom" details.
According to British publisher Mills & Boon, single dads are the hot new stars of their best-selling romance novels. In an interview with The Daily Mail, a spokesperson for the imprint explained the increase in sales this way: "There are so many different kinds of romance heroes, but single dads have a nurturing and caring element that is very appealing…readers are appreciating these dad heroes in a new sexier light – from 'cute father' to 'hot daddy' if you will."
This is the first we've heard of this particular brand of erotic fiction, but a simple search on Amazon for "single dad" revealed that we have been way behind the curve on this one. We got over 1,200 results in Kindle romance books alone. Yowzah — that's a lot of emotional maturity and personal responsibility.
The current Single Dad bestseller on Amazon is "Caveman: A Single Dad Next Door Romance." Let's read the description:
Matt Hansen.
Hot single daddy. Arrogant. Rude. Older. My boss. Totally off limits… right?
Right. You are 100% correct. That does not sound like someone you should–
Plus, he's looking for a nanny – and I am desperately looking for a job.
Well, fair enough. Jobs can be hard to come by–
One thing is for sure: I can't fall for the Caveman. No matter how sexy he is. How mysterious. How tortured.
That's the only rule – and one I'm about to break.
Hm. Can you really consider it a rule if you already know you're going to break it? It's really more of an idea you had at that point, isn't it? Although, we do understand that there's nothing quite as hot as someone who is "tortured," so…enjoy him and his surely emotionally stable child.
Next, we have a Single Dad book with the delightfully confusing title: "Single Dad's Fake Bride: A Virgin and Billionaire Romance." Y'all, there's a lot going on there.
Ethan Hunter is a self-made billionaire. He also happens to be devastatingly handsome. My knees go weak when he looks at me with those piercing blue eyes. Now he's in trouble. Because of his bad reputation, he could lose custody of his daughter. And by some strange twist of fate, I'm the only person who can help him… by pretending to be his wife. But here's a secret: he doesn't know who I really am.
Well, this sounds all kinds of troubling. "Hot self-made billionaire" is fine, but "about to lose custody of his daughter because of his bad reputation" is not fine. That is bad. And trying to solve the problem with a fake wife isn't the relatable and mature choice I was expecting from one of my Single Dads.
Yes, I'm his sweet, innocent assistant during office hours, but I'm also an undercover journalist. I only started working for Ethan to dig up some dirt on him. So I marry him. That makes me both a virgin and a married woman, which is weird. But hey, many journalists have done crazier things to get the inside scoop.
You know what? Never mind. They deserve each other.
After some more scrolling, it looks like a lot of these Single Dad books involve office romances, fake marriages, and virgins. For example, there's "Single Dad Boss: A Small Town Romance;" "Single Dad Next Door: A Fake Marriage Romance;" "Rock Hard Daddy: A Single Dad & A Virgin Romance;" and "Single Dad's Hostage: A Fake Marriage Romance."
We're not sure what it is about being a virgin who pretends to marry your boss that gets some folks going, but hey — whatever floats your boat.
We did find one more book that seems to go slightly away from the above themes, and that is "Second Chance Daddy: A Single Dad Romance." Second chances are good, right? Everyone deserves a second cha–
Four years ago, Jacob Jones went through the worst thing that could ever happen to him. Now a single dad to a precocious four-year-old boy, he grieves and has an almost unhealthy obsession with his dead wife.
–ance… Oh, boy. This feels like every conversation we've ever had with a friend who has bad taste in men.
"How would you describe, his son, Ashley?"
"Um…precocious?"
"Mm. And his feelings about his dead wife?"
"…An almost unhealthy obsession?"
"Dammit, Ashley. I quit."
Many of these books are listed at .99 cents on the Kindle, and we cannot recommend enough that you spend $5 on a set of them before your next vacation.
By the way, do you think there's going to be a series of Single Mom books coming out next? Do you think men will line the streets to get their hands on a copy of "Single Mom's Revenge: A Fake Manny Romance"? (All she wanted was a day to sleep in. All he wanted was something to put on his resume so his billionaire dad wouldn't disown him. But when her six-year-old son calls him a 'dirty penis,' will their fake love survive?) Or maybe, "All's Fair In Love And War: A Single Mom For Equal Pay Romance"? (Laura can barely pay for her two young children's daycare. When she learns that her sexy co-worker, Douglas, makes twice what she does, will she be able to look past his sparkling blue eyes to take the issue to her boss the answer is yes.)
We're guessing we'll be waiting a while for those. But in the meantime, go enjoy yourself a Single Dad cowboy or sailor book. The daycare drop-off conflicts will be all you've ever wanted.
(h/t Telegraph)
This article was originally published on