Police Department Saves The Holidays For Single Mom Of 4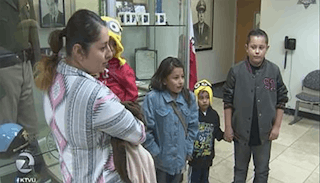 Image via Facebook
Police department unites to help family after car theft
A single mother found herself the victim of car theft last week, and though her vehicle was found a few days later, it was missing some very important items. Enter the local police department, who orchestrated the best holiday surprise ever for this mom and her four kids.
While shopping at a Kmart in Hollister, California, Marilyn Santos came out of the store to discover her car missing. And with it, tons of Christmas gifts, as it was taken after a full day of shopping. She tells NBC, "It had all my kids' gifts in it and I just started crying."
Also inside the car were three car seats and a stroller relatives had purchased as gifts for the children. The vehicle was recovered the next day in a Target parking lot by officers from the Morgan Hill Police Department. They also took the thieves, Luis Vasquez and Patricia Vaquera, into custody and charged them with multiple felonies. But that didn't change the fact that Santos was missing all those gifts. That's where the police and Target stepped in.
The Facebook post on the department's page explains what happened to the family and then, what the officers and the local Target store decided to do about it. "The #MHPOA (Morgan Hill Police Officers Association) approached Target Morgan Hill and together we decided that we would not let that GRINCH STEAL THEIR CHRISTMAS! Target Morgan Hill and MHPOA put together a covert operation and purchased replacement gifts."
Instead of just delivering the goods to Santos, they surprised her instead. "We had our new friend come to MHPD to help us "complete our investigation" and presented her with the replacement gifts."
Rather than identify her property, the mom discovered all of the gifts had been replaced by Target and the MHPOA. And what an incredible holiday surprise. Through tears, Santos told NBC, "I have never in my life gotten any gifts like that."
The department gave more information on the robbery. Using Santos' stolen car, the pair entered the Target store with officers watching where they attempted to use credit cards they stole from someone else. " Vasquez and Vaquera had entered Target and attempted to purchase items with a stolen credit card. When that didn't work they just took what they wanted and walked out." Once apprehended, the two were booked on several charges, including car theft.
Sadly, vehicle theft is more common in the months leading up to the December holidays with criminals knowing people might have expensive gifts and more cash than usual hanging around their cars. For a single mom of four kids a week before Christmas, the blow of losing all those presents was enough to motivate these kind and generous officers (and Target, our eternal hero,) to help the family out and make sure their holidays are still happy. As one officer told NBC, "She was victimized once when the car was stolen and we didn't want her victimized again."
The important thing is that Santos and her family are safe and can enjoy their gifts, thanks to the kindness of others.
This article was originally published on