Swiping Right: A Single Mom's Path To Dating With Confidence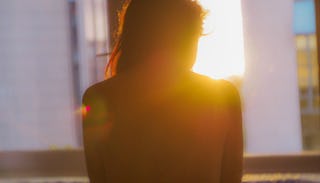 pablopunk / PEXELS
As a single mom of two, my dating life borders on "barely alive" at best. When an opportunity came recently to spend the night in some shady motel with an incredibly hot man whom I'd only talked to on the phone twice, I scrambled to make arrangements for friends to watch my kids, ages 2 and 9. I hadn't been alone all night with a man — hadn't woken up in various in-between stages of cuddling and foreplay — in three years.
Armed with a group of friends cheering me on — friends who also sent "Are you alive??" texts the next morning — I met him, smiled, and nearly kissed him hello. When we got to our room, my body became a thing of beauty, filled with fire and lust. My breasts were no longer bags of liquid food, they were round and full. He loved them; he grabbed them — and sprayed milk all over us.
I laughed it off, and he did too. But my eye still twitches whenever I think of it.
After my second daughter was born, I lost my sex drive completely for more than a year. The sound of people kissing made me nauseous. Then a friend suggested a guy who could have easily passed for Ryan Gosling's cousin. I liked him too fast, too much, but he stood firm in not wanting a relationship. Disappointed but undaunted, I took to OKCupid, challenging myself to learn how to meet men, talk to them, and maybe even learn to trust them.
After a couple of months of trying to fit in some spot I wasn't meant for, I withdrew into a place of plummeting self-esteem. I'd been rejected multiple times and had found myself pursuing others who weren't great choices.
I stopped dating completely for five months, choosing to focus instead on my freelancing career. I wrote my way out of poverty; I worked my way off food stamps. I started earning enough to put my younger daughter in daycare full-time. I was finally able to afford a smartphone.
So, naturally, I found my way to Tinder.
I discovered that there are a lot of single men in Montana. Most proudly held up dead animals they'd killed — earning them a left swipe from me. Eventually I had to start talking to some of the ones I'd matched with. At least half, after I casually dropped that I was a single mom, stopped replying or just straight-up unmatched me.
Six months earlier, these things would have cut me down. I'd gone into dating feeling like I was burdening someone. I had very little spending money. Paying a sitter to go out was still a self-indulgent luxury. Six months earlier, I'd felt like I was a situation someone had to take on out of the kindness of their heart.
Even after the incident of spraying breast milk all over my steamy companion, I didn't feel ashamed. He told me I was sexy, and I believed him. But as much as I liked him, and adored his laugh and beard, I didn't want to jump into a serious relationship just yet. For the first time in possibly my entire life, I had the confidence to enjoy taking things slow, getting to know several people, and playing the field. I didn't find one person to like and latch on to like a kitten thrown into a tub of water. Instead, I playfully splashed, batted eyes, and flirted heavily.
My standards skyrocketed. I saw myself as someone to be won over, instead of the other way around. I went out with firefighters, lawyers, musicians, and an Australian who'd been cycling all over the world for 20 years.
I still haven't figured out how to play the kid card at the appropriate time. Sometimes I feel like I'm lying, messaging back that I'm doing "Great!" on a Saturday morning between cleaning up the remnants of my kid's puke from the night before.
Before, I didn't want to tell men about my kids because I thought that part of my life was unsexy and would be most likely unattractive to Mr. Rock Climber who had "Never Married, No Kids" in his profile. But why should single motherhood be a knock against me?
If anything, single mothers should embrace their ability to handle a life that most wouldn't be able to survive for more than a day. We know how to find fun on any budget, how to solve problems quickly, and how to calmly breathe through any temper tantrum — all of which are stellar life and dating skills.
Plus, if you're out on a date with a single mom, you know that she is giving you some precious time. She could be at home, taking a bath, or be out with friends she never gets to see, but instead she is with you. Remember that.
As a single mom, dating is still all fun for me, and I don't introduce people to my kids — especially since the 9-year-old likes to say, "Are you gonna be my stepdad?" if she sees us sneaking a kiss. I'm guessing it's going to take a pretty strong man to keep showing up. I can definitely wait. For the first time, I feel like we're worth waiting for.
All single moms are.
This article was originally published on