Single Mom Places Craigslist Ad To Find A Family To Spend Christmas With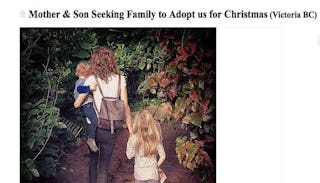 A mom who realized she would be spending Christmas in a new city with just her toddler as company decided to reach out to see if there was anyone out there who wanted to open up their home and expand their Christmas guest list. What better place to do such a thing than Craigslist? The 30-year-old mom posted an ad, and she's since received a landslide of attention, offers, and warmth.
Have you always wanted a daughter and grandson? Do you have a daughter and/or grandson but they live too far away to return for Christmas this year? Do you miss the pitter patter of little feet and adorably mispronounced words of a three year old boy? Do you need a hand with dishes after sharing Christmas dinner with a (slightly?) eccentric 30 year old single mother?
If you've answered yes to any of the above questions, look no further, you've found the perfect solution!
Autumn Aviva-Keshet Mazzitelli explains that her older daughter will be spending the holidays "back home with her wonderful Papa" and since she's new in town she'd like to meet some people to share the holiday with. She jokes that the worse thing that can happen is "you don't think my son is cute and I'm way under or overdressed and the wine I bring tastes awful and it's awkward and I try to help cook and I ruin the food." We're all used to any of those scenarios, right? Sounds like a pretty average holiday in my house.
The most incredible thing happened after Mazzitelli posted her query: people responded in droves. She's received so many invitations she doesn't know what to do — even some from overseas. Not only has she received invitations, she's also inspired others to reach out rather than be alone during the holiday:
UPDATE: I have tears in my eyes as I type this, I am so grateful for the outpouring of love, the shares on social media, the PMs, email responses, text messages from friends who live far away. I have been invited to every kind of Christmas dinner you can imagine and even invited overseas! Most importantly, I received messages from people just saying that they now plan on reaching out too, instead of spending Christmas alone.
I am so moved and overwhelmed…
Growing up, we always had open doors around the holidays. We all knew to invite anyone who didn't have family to celebrate with to our house; my mom made sure we did. It resulted in huge "family" gatherings around the holiday that were incredible. We didn't have a big family, but our table was always full and our house brimming with people for every holiday meal. The people we invited in to our home actually became part of the family, spending holiday after holiday at our table for meals.
It's easy to forget to look outside ourselves when we're planning for the holidays for our own families, but this story is a great reminder to see the people around you. Does that small family on your block have a family to spend the holidays with? Does the single man you wave "hello" to in the morning have plans for Christmas dinner? The world gets so much bigger when we remember there are so many people in it — and invite them in.
Mazzitelli's "best-case scenario" when deciding to place her ad on Craigslist was for people to "talk about this crazy thing" and "start to share their love and space and make friends, and the best part … in time there would be far less lonely hearts on Christmas." She got so many responses to her ad, she was finally forced to take it down — but before she did she wrote, "I haven't a clue what to do! I know it makes sense to take the post down, but it doesn't feel right. I think it's important to know that it's okay to want company."
This article was originally published on