Prepare To Be Obsessed With These Sisters And Their Mermaid Photo Shoot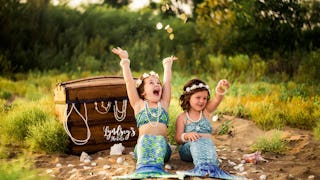 Image via Lyndsey Wright
These sisters are living that #MermaidLife
Mermaids are having a moment in pop culture right now, because why not? They're awesome. Two young sisters from Iowa think so too, and are making waves to show us what "peak mermaid" really looks like.
Sophia and Haidyn Grulkey, who are five and four-years-old, were basically destined to be mermaids.
Like many girls their age they have a certain fascination with mer-folk. "They are obsessed with mermaids!!" their mom, Bri Grulkey, tells Scary Mommy. "One day I saw a picture of mermaid tails and thought 'OMG we could do a mermaid shoot.' So I started looking for mermaid tails."
The tails were just the start. Bri called her good friend and photographer Lyndsey Wright, of Lyndsey's Photo Co. in Cedar Rapids, to make the magic happen. Behold the cutest sister sirens ever.
And to think Wright had never done a mermaid photo shoot before.
"Bri sent me a text and asked if I had ever done a mermaid session and I hadn't even heard of it before so my response was, 'WTF are you talking about?'" Wright laughingly says.
She explains that Bri sent her a picture of two little girls dressed up as mermaids (very popular on Pinterest at the moment). And even though Wright admits that the mermaid thing initially wasn't really her style she went with it anyway.
"I knew Haidyn and Soph were excited and clearly Bri was too!" Wright says.
The vision slowly started coming together and the two worked together as a team. They found a treasure chest that someone let them borrow. Then they spent days before the shoot driving around town borrowing large seashells from friends, buying pearl necklaces, and searching for fake gold coins.
"I tossed some ideas and suggestions Bri's way and she worked her ass off to make it happen," Wright says. "My vision for the shoot slowly came together when she showed me the mermaid tails she had ordered and it came together perfectly."
The images capture wonder, joy, and magic between the sisters. Once the photos were done, Wright was ready to confess to Bri.
"I finally admitted I was wrong about the idea being kind of cheesy because I LOVED it!" she says.
Wright has blessed the world with many cool photo shoots including a newborn session with the cutest Olde English Bulldogge puppy you've ever seen, an epic donut smash sesh, and a taco smash shoot (both are opposed to the ever popular cake smash). She can now add the cutest mermaids ever to her list of fun photo shoots.
It's easy to see why girls and women alike are enchanted by mermaids right now. They represent something other-worldly, different, and oneness with nature. Mermaids are unique, magical, and removed from life's pressures and expectations.
To be honest, some days we might feel more like sea witches, but wouldn't it be nice if we could all be mermaids? Just for a day. These two are showing us how it's done.
This article was originally published on