Mom Finds Son With '12-Word Vocabulary' Singing Duet With Sister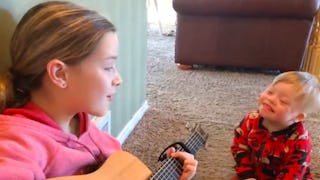 Image via Facebook/Amanda Bowman Gray
Mom credits music therapy with helping her son learn to talk
Usually, when a mom steps into the shower while the kids are awake, she has no clue what scene she'll be walking out to a few minutes later. The time it takes to use conditioner may be all your kids need to go from fine to Lord of the Flies.
But when Amanda Bowman Gray asked her 11-year-old daughter Lydia to keep an eye on her youngest brother for a minute, the mom got out of the shower and found the two performing the world's most adorable duet (with a special appearance by their brother).
Siblings sharing a sweet moment will always make a mom break into a smile, and Lydia's got a set of pipes on her that wouldn't make us surprised to see her face on an album cover in the future. But it's the caption Bowman Gray posted with the video explaining what's so extraordinary about Bo's singing that explains why it's been viewed over 34 million times.
"If she didn't have a guitar I don't know if she would know how to babysit him. This is her go to," she wrote. "It's proof that music therapy works. Bo is 25 months old and has a 12 word vocabulary. Every word he has learned has been through music and singing."
Bo has Down Syndrome. Bowman Gray told ABC News that doctors had warned the family that he might not speak until at least age three. All that changed thanks to his older sister.
Both Bowman Gray and her husband are musicians, a passion they share with their kids. Lydia has been playing guitar since she was four. This past October, she noticed that when she played to Bo, he was saying "happy" along with her — his very first word. With the help of music therapy via Lydia's in-home concerts, Bo has expanded his vocabulary to a dozen words.
In another post on her Facebook page, Bowman Gray explained why "You Are My Sunshine" has special significance to the family, aside from being one of Bo's favorite songs to jam to.
Bo underwent heart surgery in the Spring of 2016. During his stay in the hospital, "You Are My Sunshine" became the toddler's personal anthem. She and her husband had been practicing the song nightly before Bo's surgery, often singing it while holding him. "After weeks and weeks (which ended up in months) of being in the hospital in a silent room of the CICU we got special permission to bring a guitar in and sing to him in hopes that it would comfort him as they believed that he could still hear us even though he couldn't physically respond," Bowman Gray shared on Facebook.
"This was the first time that he moved as he reacted to the familiarity of the song and our voices. He was so heavily sedated and wouldn't respond. From then on this has become his theme song."
Yep, I'm crying.
"We feel like he's defying the odds," Bowman Gray said. "Thanks to Lydia and her determination, she pushed forward with music therapy. … We're so proud of our kids."