Sisters Want To Help Other Families By Reading Bedtime Stories On Facebook Live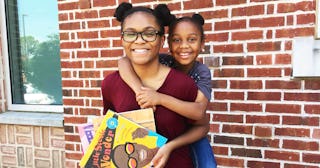 Zaria X Hailey/Facebook
Two adorable young sisters read bedtime stories on Facebook Live every night
Two sisters from Delaware — Zaria Hathorn, 13, and Hailey Willard, 8 — read bedtime stories five nights a week on Facebook Live because they believe that all kids should have the opportunity to fall asleep to a bedtime story. The girls shared in a Facebook post that since their mom read to them since birth they both consider themselves avid readers, so why not share that literary love with the world?
"My sister and I were lying in bed one night giggling about something when this idea came about," Zaria wrote on Facebook about the idea to read bedtime stories on Facebook Live. "We presented the idea to my mom and she agreed it would be great. She personally doesn't want us to be on social media but we all agreed being on it in a positive way would help light the world."
These wise young girls recognized that falling asleep each night to a bedtime story is a privilege, so they figured they would be the ones to provide that luxury.
"We are already reading each night but we thought it may be beneficial for children who don't get this luxury," Zaria added. "Parents sometimes work late or are too tired for stories. We are not only helping children, we are giving parents a nice break after a long day of work."
The girls started the endeavor back in March 2019 and got about 50 views per night. They now get anywhere from three to 12 thousand views on their Facebook Live streams each night.
Here's Hailey reading I Got The Rhythm — complete with adorable dance moves from Hailey herself.
The girls blew up after several appearances on local news shows and told Inside Edition that they make a point to read bedtime books with diverse characters and stories.
"When we read stories we try to use black characters because we don't see a lot of that around here so we're here to tell people that black kids are out there too," Hailey said.
It's rare to read the comment sections on anything these days and see so much love, but Zaria and Hailey's videos are a safe space for kind-hearted book-lovers of all ages to meet up, listen to a good story, and share their appreciation for the girls' service.
"It makes me happy that it helps somebody," Zaria added. "It makes me feel good when I go online."
The girls go live Monday through Friday at 8:30 pm EST and on Saturdays, 13-year-old Zaria does book reviews on chapter books that appeal to the tween audience.
These ambitious sisters are also writing a book of their own about their family and their parent tells Scary Mommy: "We're getting closer to the release of their book and are extremely excited to share it with the world!"
The Willard sisters join a community of Facebook Live bedtime readers (a principal at an elementary school in Texas reads bedtime stories every Tuesday night and a couple teachers in England have done the same), so head to Zaria X Hailey's Facebook page to follow along on their literary journey.
This article was originally published on