Sisters Honor Their Funny Dad With A Funny Obituary
by Madison Vanderberg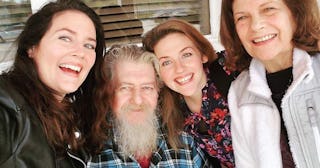 Kim Mulligan
Sisters honor their funny dad with a hilarious obituary in the Nashua Telegraph
When Thomas WJ Mulligan of Nashua, New Hampshire, died earlier this month, his daughters honored him with a biting, hilarious, and ultimately heartfelt obituary that they say would have made their funny father proud.
The obit, which ran in the Nashua Telegraph, opened with: "Thomas (Tomm) WJ Mulligan of Nashua has passed away at home in his recliner as he had threatened to for years."
Sisters Amy Mulligan-Schiripo and Kim Mulligan wrote the obituary and told Today that their dad was "was totally irreverent, sarcastic and dry. He loved jokes that were 'too soon.' I think this obituary would fit into that category."
"Tomm worked in technology at Lahey Clinic for over 20 years where he was clearly indispensable but his exact position remains a mystery," read another line in the obituary. "He never missed the opportunity to make an inappropriate joke or take a cigarette break. He was an exceptional office Santa."
"His love of Doctor Who was only surpassed by his love of not wearing pants at home. He often combined these two interests," they wrote in another line. "His passions included comic books, playing the lotto and making his children uncomfortable. He also really loved cheese."
It's one thing to honor a person after they've passed, but it's another to do it in a way that is so specific to the person being celebrated. Based on how his daughters describe him, it's almost like the obituary he'd write for himself.
"He would be so tickled that everybody is talking about him and that his daughters made this happen," Kim told WMUR. "He would just think it was so funny."
Amy also told WMUR that "he was the first person to make a joke, even if the timing was off. And he loved to do things that would make us uncomfortable."
Kim said the whole family was on board and loved the tribute and only objected to one line about her being the "favorite daughter," and LOL.
"He is survived by his wife, Iris Mulligan; his favorite daughter Kim Mulligan of L.A.; his other daughter Amy Schiripo and her husband Alex of Dracut," the obit read.
Tomm was 68 when he passed suddenly on July 16, which Kim told Today came as a surprise to everyone.
"It was very unexpected," Kim said. "He was not the picture of health, but he seemed fine. It looks like he went due to a sudden medical event without lots of pain and he was in his recliner as he threatened to do. He showed us!"
Kudos to Mr. Mulligan for raising such a funny family and for handling this huge loss with grace and humor. How lovely to be remembered with so much laughter — to truly roast a person, is to show them you care.
This article was originally published on