Six '90s Flicks That Need to Get Remade Now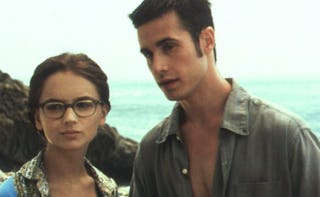 REX USA
Apparently they're remaking She's All That and the entire Internet is freaking out about it. The quintessential '90s makeover movie, which starred Freddie Prinze Jr., Anna Paquin, the late Paul Walker, and Rachel Leigh Cook as Laney Boggs, is about a dorky creative type who somehow managed to morph into prom queen. How do we know she's dorky and creative? Because her name is Laney Boggs. And because she wears black-framed specs with paint-splattered overalls. Other than that, I don't remember a ton about this flick. So is it ripe for a makeover? Possibly. But here are a few other '90s movies I'd really love to see get the reboot.
Clueless
Three girls just living that L.A. life, obsessed with shopping, clothes and boys. Pretty sure they already remade this one, and it's called Keeping Up With the Kardashians. Maybe you've heard of it? Also. You know how the Kardashian sisters call themselves Dash Dolls? Well, the actress who plays Dionne in the movie? Her real last name is Dash. This can't be a coincidence. But remake Clueless? As if. So let's haul ass to the next one.
You've Got Mail
Email? Who uses email? And what's a bookstore? Is that a place they sell Kindles? I can see how a remake of this already remade story might present a challenge. But I would definitely show up to watch, say, Zac Efron woo Selena Gomez on Tinder even as he secretly tries to steal her DryBar business, wouldn't you?
The Parent Trap
Just hear me out. Because if you thought it was awesome to watch old-school Lindsay Lohan play two versions of herself the first time around, imagine how epic it would be to watch LiLo play two hot mess versions of herself now. Throw in the British accent and you're totally into this, aren't you?
Speed
Stay on or get off. Stay on or get offffff? A timeless question. But can a story about a young cop trying to keep a bomb from exploding on a city bus by keeping its speed above 50 mph really capture the attention of a generation that probably thinks this movie is about Adderall? It can if you make Melissa McCarthy the cop and put Ellie Kemper in the driver's seat. Sub in Alec Baldwin for the late Dennis Hopper and you've got box office gold. Fine, we'll thrown in an Adderall addiction.
The Family Man
I know, I know. This movie technically came out in Y2K. But since She's All That was only released one year prior, I'm giving it a pass. Because now that you've seen him play Ari Gold in Entourage, how much would you pay to see a remake of The Family Man that elevates Jeremy Piven from sidekick status to full-on star? Can't you just see him scrambling to reclaim his life after waking up Christmas morning to find that he's no longer a hot shot investment banker with a sleek Manhattan apartment, a red Ferarri and Amber Valletta in his bedroom, but a bedraggled tire salesman living in Jersey? Watching him hug it out with Don Cheadle would be worth the price of admission alone. Although how awesome would it be to see where things would go with Rex Lee (Lloyd!) in that part?
Ghost
This one's got Taylor Swift's name written all over it. Because she's a nightmare dressed like a daydream, that's why. She's also got a long list of ex-lovers. So let's cast one of them as Sam Wheat. My vote goes to Jake Gyllenhaal. Because he reportedly once spent $160,000 to have Swifty flown in on a private jet for a date, so he'd totally be down for some afterlife relations. Only let's replace the pottery wheel with a Cra-Z Sand Creation Station and see what happens.
American Pie
A movie about a bunch of teenage boys who make a pact to 86 their virginity by prom night? Solid plan. But here's an idea: Let's recast it with Disney Channel Girls. Here's how it would go. First, we call it Bye, Bye Miss America Pie. I'll give you a minute to let that one sink in. Then we cast Zendaya in the Jason Biggs role because that girl has no fear. The rest of the cast falls out like this: Bella Thorne as Kevin, the hopeless romantic. Brenda Song as Paul "I'm Better Than You" Finch. Ariana Grande as choir boy Oz. And Miley Cyrus as Stifler. Because duh. Added bonus: Billy Ray Cyrus as Stifler's dad. As far as recasting the original girl parts with guys goes, I'm cool with whatever as long as Channing Tatum gets to play the hot foreign exchange student and Jonah Hill takes over for Eugene Levy. We'll just tell your mother that we ate it all… Yup. Sounds about right.
This article was originally published on