10 Skin Care Products That Are Affordable And Totally Legit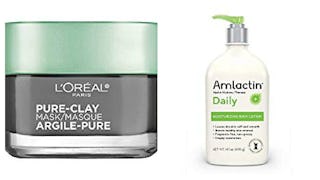 Amazon
Maybe you are a stickler about your beauty and skin care routine, or maybe you are constantly telling yourself you are going to invest more time in getting that glow your desire. Whatever your deal is, we've got some products that will help you look and feel your best without breaking the bank.
This creamy cleanser removes dirt, oil, and makeup while maintaining your skin's natural pH, and retains natural moisture. It's infused with prebiotic thermal water, ceramide-3, niacinamide, and glycerin. After cleansing, you'll feel like you've had a mini-facial.
We love a night of staying in with a good book and slapping on a face mask. A clay mask like this one will detox your face and leave it glowing. And the best part? It's under $5 and gives you up to 10 uses.
After having a party with one of these babies in the shower, your skin will feel like a new baby seal. (Don't use these on your face though!)
Make sure to apply this lotion all over as soon as you get out of the shower. It helps clear up that "chicken skin" on our arms and thighs that's the bane of our existence.
This does it all: hydrates, gets rid of dark spots and fine lines, all while you sleep. Just slap some on your face and neck after you cleanse and let it work its magic.
It only takes one spray of this refreshing face mist to hydrate, set your makeup, or spray on your hair to make you feel extra pampered. We love this gentle one infused with aloe and rosewater.
We can't leave our lips out. A nice scrubbing will get rid of dead, flaky skin and give your kisser a plumping boost. We love this one — it has honey crystals and replenishes moisture. Follow up with your fave lip balm.
Jade rollers are great for reducing puffiness, swelling, or inflammation of those under-the-skin blemishes. Keep one in the freezer and use every morning by starting under eyes, or at the base of your nose and lips, and rolling outward. It only takes a few minutes and makes a big difference.
Derma rollers irrigate your skin so it can absorb products better. We love this one for its affordability and the fact it can be used for the face and body.
We can not forget to apply sunscreen every single day — even in the winter months when we don't think the sun can do much damage, it can add up. This pick has SPF 60, absorbs into the skin really fast, and has a velvety finish, not a greasy one. It works great under makeup too.
So go ahead and get started, or add another step to your already amazing routine. Taking care of our skin isn't solely about fighting our aging skin, but more about helping us look our best at any age. After all, the skin we live in is our largest organ and it needs to be tended to.
We may earn fees from purchases made via links on this page and affiliated sites. All opinions are our own.
This article was originally published on