25 Skincare Products Under $25 That Will Have You Glowing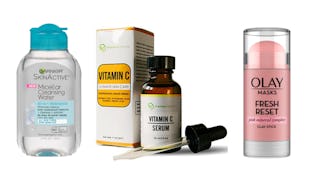 Images via Walmart
Investing in skin care doesn't have to be expensive.
We all have those friends who are skin-care obsessed. Their skin looks like porcelain. But when you ask them about their routine, you discover it takes them 5 hours a week and costs more than you could possibly afford if you want to make rent.
Luckily, there are skin care products that will give you smooth, glowing skin for a fraction of the price. Sometimes simpler really is better.
Here are some budget-friendly options worth every penny, that all have excellent reviews:
This Eye Recovery Gel is a physician-formulated cooling gel that soothes the eye area, firms skin, and diminishes the look of fine lines, dark circles, and puffiness. And it's currently on sale for $25. (Originally $44.00.)
Eye Repair Cream is another great option for brightening and smoothing eyes for tired moms with dark circles, BECAUSE OMG THESE KIDS NEVER SLEEP. And it's only $10.77.
These Gold Collagen Eye Pads are a quick way to brighten dark circles. And you can get 40 pads for $13.99.
There's also Eye Brightening Cream for the stubborn eye circles you probably have if you have a newborn or a potty-training toddler.
Micellar Cleansing Water is a must-have for those nights you're too exhausted to wash your face, but you still need to remove your makeup. This will even remove mascara and lipstick, without leaving your face dry. And it's only $3.44!
This Wonder Pore Cleanser is a deep-foaming cleanser that will leave your face feeling rejuvenated and your pores clean. And it's only $12.48.
This Good Morning Low pH Cleanser is a gentle gel cleanser with mildly acidic pH level, ideal for sensitive skin. And it's currently $11.
A Charcoal Bar is a great investment if you have acne or blackhead prone skin. You can use it for face and body. And it's only $5.64!
Neutrogena's Purifying Facial Scrub will help exfoliate your skin, leaving it brighter and smoother. And you can get a 2-pack for $16.50.
These Pore-Scrubbing Pads are great for exfoliating as you cleanse and will help you conserve your cleanser because you'll use less of it. And they're only $6.92.
This Lactic Acid + B5 Dermfoliant is an incredibly effective exfoliating scrub that contains lactic acid, alpha lipoic acid, bamboo, and pro-vitamin B5.
This Glycolic Acid Peel will address fine lines and any hyperpigmentation issues, and it's great for all skin types, leaving you feeling and looking younger. Until one of your kids ask you if dinosaurs were alive in the 1980s, that is.
This Purifying Gel Peel delivers extra gentle exfoliation benefits with moisture-rich natural cellulose to help gently lift dead skin cells and unclog pores to restore skin clarity and radiance. And it's only $5.22!
People swear by this Aztec Healing Clay Mask. This deep-pore cleaning, 100% natural calcium bentonite clay doesn't contain any additives, fragrances, or animal products. And it's only $13.30 for 2 lbs. of it.
This Detox Clay Mask has 3 pure clays and charcoal, which acts like a magnet to clean pores and draw out impurities. And it's only $8.99 right now.
A Clay Mask Stick is a great buy for people who have combination skin, or anyone who just likes masks without the mess. And it's only $9.94.
Vitamin C Serum is an essential part of your skin care routine. It deeply penetrates to repair UV damage, promote collagen, and reduces the signs of aging. And it's on sale right now for $9.99! (Originally $24.98.)
This Derma Roller + Vitamin C Serum is a microneedle kit that comes with vitamin C serum, which is great for rewinding the clock to back when you used to get 8–10 hours of sleep a night. That was nice.
Retinol Serum assists your skin in eliminating dead cells and creates new ones that generate new collagen. Over time, new healthy skin cells replace the old ones, resulting in smoothed out fine lines, filled-in wrinkles, and erased dark spots.
Immediately, Hyaluronic Acid Face Serum replenishes hydration, so skin feels more supple and looks smoother. After a week, it visibly plumps so that skin feels firm and more elastic to leave you looking well-rested and glowing with moisture.
This Complete Moisturizer With SPF 15 is the perfect daytime moisturizer for all skin types, and it gives you the sunscreen you need to help prevent UV damage. (SPF is a necessary part of your skin care routine.)
Collagen Night Cream is the perfect nighttime moisturizer and has deep hydration without feeling greasy. And it's currently on sale for $8.98! (Originally $14.97.)
This Mattifying Primer is perfect for putting on before foundation or mineral powder to help minimize pores and keep your skin from getting oily. And it's only $8.97.
Yes, good Makeup Brushes are another important part of skin care. They'll help you apply your makeup more evenly and not use more than you need to. And this set is only $9.00!
Oil-Blotting Sheets are another must-have-in-your-purse item for anyone with oily or combination skin. And they're available for as low as $4.97!
No matter what your skin care routine is (or how nonexistent your skin care routine is), we hope that we could help with these budget-friendly finds. And if nothing else, they can help turn back the clock to before we had all these kids.
We may earn fees from purchases made via links on this page and affiliated sites. All opinions are our own.
This article was originally published on