Live Your Best Lazy Spring Break Life With This Sloth Pool Float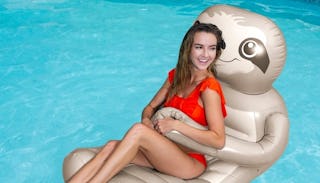 Image via Walmart
You need this sloth pool float and you need it now
You might not believe it right now since winter's still clinging on in many parts of the country, but spring break and summer weather will be here before you know it. That's why it's totally time to start daydreaming about all those pool hours you have coming your way — and this hilarious sloth pool float should be part of those fantasy thoughts immediately.
Actually, Walmart has a ton of fun floats to make your spring break exactly as amaze as it should be. But let's start with the sloth. Because, duh.
If you don't have this ridiculously fun sloth pool float, you're doing the pool all wrong. Look at that face!
Of course you can literally never go wrong wiling away your pool hours on an actual unicorn.
They're pink. They're fabulous. And they're all about a good time in the water. That's why nothing says chill like this bright pink flamingo pool float.
If a bunch of drinks and some party people pals are part of your pool day, you will definitely want to nab this rodeo bull ride-on float. The three margaritas you'll need before hopping on are, unfortunately, not included.
The only thing more majestic than a beautiful swan is a beautiful swan that lights up, and that's why you need this LED light-up swan float in your life. Evenings poolside will never be the same.
Nothing says bikini season like…french fries? That's the case at least if you make this french fry float a part of your water enjoyment.
Speaking of yummy foods you can float on, how about this donut float that contains exactly zero calories, unlike it's deliciously frosted, sprinkled reality.
If mythical creatures and food floats aren't really your thing, how about setting sail on a floating phone complete with brightly colored apps?
Were you already missing the fun creature floats? Me too. How about this sweet yellow ducky who's literally made for life on the water?
If you'd like to take your love of shoes to whole other levels, try this red high heel float that all fashionistas need.
There. That should take care of all your pool lounging needs, aside from a few bottles of rosé. Enjoy!
We may earn fees from purchases made via links on this page and affiliated sites. All opinions are our own.
This article was originally published on