Feast Your Eyes On This Wicked Slytherin Wedding
by Christina Marfice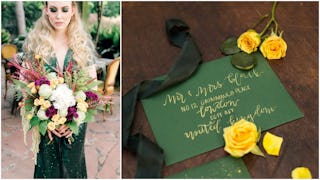 Image via Brianne Hardcastle Photography / Swish + Click Photography
This photo shoot will make even Gryffindors want a Slytherin wedding
When we all read the Harry Potter books as kids, few of us were Slytherin fans. But as we Potterheads have grown up, we've realized that despite the likes of Malfoy, Crabbe, Goyle and even Lord Voldemort, it's OK to be a Slytherin. Wear your house colors with pride, those of you with the cunning and ambition to earn you a place at the Slytherin table. And get ready for some serious inspiration for celebrating your house in your Muggle life when you see these gorgeous photos of a Slytherin wedding.
Photographers Brianne Hardcastle and Christine Wright bonded over a love for Harry Potter, and decided what the world needs is more Slytherin-themed weddings. They're not wrong. So they started brainstorming and contacting vendors, and they put together a gorgeous art project that should inspire any Slytherin bride.
"A lot of couples out there don't quite know how to make their wedding nerdy or themed without it feeling tacky and we wanted to show them little things you can do to make your wedding unique but still have your nerdiness shine!" Hardcastle told Scary Mommy. "This wedding theme is perfect for all of the Slytherin and Harry Potter fans out there who want to bring an elegant, classy, touch to their wedding. Being able to photograph, plan, and execute this shoot was a dream come true and I honestly couldn't have done it without my team."
With the help of local venue 5226 West Elm Events, bakers, florists, calligraphers and more volunteers, this project truly came to life. And the little details and touches will have Harry Potter fans swooning.
Like the table settings, which include green wands and chocolate frogs, and plates embossed with the Slytherin house crest.
The invitations are perfectly on theme, with some seriously gorgeous calligraphy from artist Callie Elizabeth, too. They wouldn't look at all out of place in the wizarding world.
Refreshments included Death Eater cookies from Hello Sweeties.
It's easy for a themed cake to be a little over the top, but Good Gosh Ganache nailed it. This gorgeous 3-tiered confection has golden snake details that still look timeless and elegant.
It's hard to pull off a mostly green floral bouquet, but A's Floral Designs struck the perfect note with green-dyed roses.
Even the drinks are on point. One is served out of a tiny cauldron cup, and one is smoking, just like any good potion should be.
The bride in this shoot is styled with even more perfectly delightful details, like her white snake henna tattoos and an emerald ring that matches the wedding colors perfectly.
"We also wanted to change up the concept of using a white dress and have a more luxurious feeling dress with the emerald tones of the Slytherin house, because we felt that's what a Slytherin bride would wear!" Hardcastle said.
Green sequins are the new white, obviously.
Fog machine to set the mood? Not optional.
Basically, this is the Slytherin wedding of every bride's dreams — from DA members to aspiring Death Eaters to even Gryffindors.
This article was originally published on