World's Worst Daycare Cited For 'Smack For A Snack' Game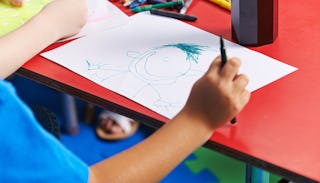 Credit: Robert Kneschke/Shutterstock
"Smack for a snack" game results in second-degree assault charges for daycare employee
A Kentucky day care facility is under fire after an August investigation revealed several shocking violations, including staff members who hit kids with rulers if they wanted to get a snack.
An investigation conducted by the Office of Inspector General and state government agencies revealed that two male employees at New Creation Childcare in Lexington, Kentucky had an abusive habit of making children line up to get hit on the legs or hand with a ruler if they wanted to get a snack, according to the Lexington Herald-Leader. One of the employees, who was cited for second-degree assault, called it the "smack for a snack" game. But, really, it can only be called child abuse.
Children at the daycare were school age and one 10-year-old girl told investigators: "The teacher said if you want a yogurt, you have to stand up to get hit on the hand or the leg. Everyone lined up to get a hit. Some kids were crying about it."
Another child told investigators, "I didn't even want a snack, but he hit me anyway." Some of the children still had bruises several days after the incident.
As if the abuse weren't enough, the facility was also cited for other violations in the investigation, including a higher than permitted child-to-staff ratio and a shattered storefront window. Which begs the question, why in the hell hasn't this day care been shut down already?
During the investigation, the day care facility was placed under intermediate sanctions that require increased monitoring, and spokesperson for the Kentucky Cabinet of Health and Family Services said that government agencies are currently keeping tabs on the facility. But given the nature of the violations, and the fact that the facility has been cited for violations in the past, we can't help but wonder whether monitoring is enough.
As if parents didn't have enough to worry about, we also have the stress of finding good and safe child care and footing a fucknormous bill for it too. According to The Washington Post, a 2007 study showed that the majority of day care operations are "fair" or "poor," and only 10 percent were considered to provide high-quality care. Given that childcare now costs more than college tuition, anything less than high-quality care is unacceptable.
Of course, high-quality, childcare costs money – and a good childcare provider, whether a babysitter, nanny or day care employee, is worth their weight in gold – but if we are a country that claims to care about families at all, we can't let them shoulder this burden alone. We need for everyone to step up and help out. We need increased oversight of childcare facilities. And government subsidies or tax credits to help us pay for it.
These are children we're talking about. We have to do better.
This article was originally published on