Small Act Of Kindness Rescues Mom At The End Of Her Rope
by Mike Julianelle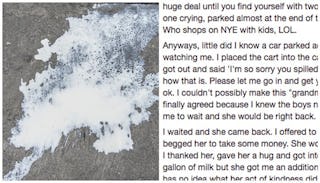 Image via Shutterstock/ Facebook
A mom at the end of her rope got a lifeline from a stranger on New Year's Eve
The holidays are hectic and stressful for all of us, and that would be true whether we had kids or not. It's just more true, thanks to the kids. One mom was having a particularly tough New Year's Eve when a stranger stepped in to help.
A little empathy goes a long way.
In a post on the Facebook page for Love What Matters, whose mission is to "celebrate love in all forms," Kristin Sherman told the story of her frustrating trip to the supermarket on New Year's Eve, and the grandma who unexpectedly helped end her 2016 on a high note.
"Last night I found myself in the Essexville Meijer parking on the verge of tears after the milk I just placed in my car fell out and splattered all over the ground…It doesn't seem like a huge deal until you find yourself with two tired kids buckled in their seats, one crying, parked almost at the end of the parking lot because it's NYE. Who shops on NYE with kids, LOL."
Heading to the store on the holidays is never fun, heading to the grocery store with little kids is never fun, doing both at the same time is a recipe for disaster. And a disaster is exactly what she got – until an empathetic bystander stepped out of a nearby car and stepped in to save the day.
"A woman got out and said 'I'm so sorry you spilled your milk. I'm a grandma I know how that is. Please let me go in and get you another one.' I said no that's ok. I couldn't possibly make this 'grandma' do that for me. She insisted. I finally agreed because I knew the boys needed their milk tonight."
Not only did this kind stranger replace Kristin's spilled milk, she added a little something extra.
"I offered to pay her. She wouldn't accept it. I begged her to take some money. She wouldn't. She said happy New Years. I thanked her, gave her a hug and got into the car. Not only did she get my gallon of milk but she got me an additional gallon and a Meijer gift card!"
Not that any of that was necessary. Just the gesture alone had already helped.
"She has no idea what her act of kindness did for me. I was feeling exhausted and defeated for the most part this week and this strangers random act of kindness made me cry like a baby."
Sometimes, the smallest gestures can yield the biggest results. Kristin wasn't enduring anything that most of us haven't dealt with ourselves – screaming kids, hectic shopping, exhaustion – but instead of shrugging her shoulders and moving on, the parking lot grandma saw a small way to help, and that makes a big difference. This kind woman saw a parent in need and decided the least she could do was offer a hand. (She probably could have also offered to grab Kristin a bottle of wine along with the milk, but let's not look a gift grandma in the mouth.)
"Thank you to the parking lot grandma. In 2017 I hope we can all be a little more like her. I'm hoping the lady that helped me out last night will see this. Please feel free to share. Less hate, more love is my hope for 2017."