Town Holds Parade For 3-Year-Old Boy Told He Wouldn't Live Past Age 2
by Julie Scagell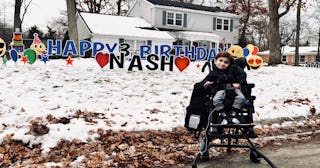 Brittany Stineman
The Stineman family is raising funds for those affected by SMARD to receive life-saving treatment
Three-year-old Nash Stineman has a rare condition called Spinal Muscular Atrophy with Respiratory Distress, or SMARD, an inherited disease that causes progressive muscle weakness and respiratory failure in infancy. Nash's family was told he likely wouldn't live past two years of age, and after going into cardiac arrest and respiratory failure, his family was almost certain he was going to become another statistic. When he pulled through, it was definitely reason to celebrate, so for his third birthday, his community decided he needed something big.
Nash was diagnosed at just 11 months of age and since then, has been fighting for his life. With no known cure, he is enrolled with the University of Illinois at Chicago's Division of Specialized Care for Children and requires in-home nursing and treatments for his symptoms. In fact, SMARD is so rare, he is the only person in Illinois ever diagnosed with this disease.
Because of his weakened immune system, Nash can't be around many people, so friends, family, neighbors, and strangers instead decided to throw him a parade. For over an hour, more than 100 trucks, cars, and people walked and drove down the family's suburban Chicago street to celebrate Nash's birthday. His five-year-old brother, Blake, even served as the grand marshal leading the pack.
The Stinemans are so grateful to everyone who made Nash's birthday a memorable one but are hoping to use the media coverage of the event for an even bigger and far more important cause — to raise money to fund treatment of SMARD.
Nash's family started the nonprofit, smashSMARD, with the hope of helping those impacted by the disease and to raise money to fund treatment. Treatment, Nash's mom Brittany Stineman tells Scary Mommy, that has been shown to be effective.
According to their site, the vision of the organization is to "envision a world where individuals with rare diseases and their families are no longer told there are no medical treatments available. Our organization wants to be there to support these orphan causes, to give hope to families, and to be a leader in driving research."
Currently, there are only 60 children living with this disease worldwide but since a segment about the parade aired on ABC News, they've already been contacted by five other families. "I believe this disease is more prevalent than we think," Stineman said. She says her son's diagnosis is often confused with Spinal Muscular Atrophy (SMA) which does have approved therapies available.
"Nash doesn't have traditional SMA. Those treatments do not work for him, he doesn't qualify," she explains. "We are trying to build awareness for SMARD and let people know that for those diagnosed, the responsibility to fund treatment is 100 percent on the families and the nonprofit".
Stineman started the nonprofit not just to help her son, but to raise funding for all those suffering. The goal is to raise $3 million and this money will treat 4-11 patients in a clinical trial. "If everyone donated $5, the hope is Nash and 4-11 others with his condition will be alive to celebrate Nash's fourth birthday" by funding the actual treatment, which can cost as much as $1.5 million per treatment once it's approved.
The nonprofit is in the process of contracting with a major hospital in Columbus, Ohio where SMARD patients can undergo gene replacement therapy to take the inherited gene and replace it with a good copy. It is a one-time infusion.
Stineman says 100 percent of every single donation is being used to fund research and all donations are tax-deductible. Without this life-saving gene replacement treatment, Nash and other children like him will not survive to see another birthday. Please consider donating here, today.
This article was originally published on