Women Wear 'Smart Dress' To Record How Often They're Groped By Men In Public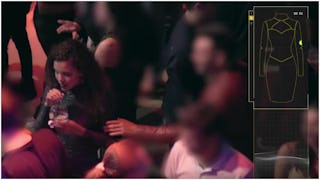 Image via Schweppes/YouTube
A "smart dress" has been created to clock the number of times women are groped in public
You know how some men feel the need to touch you for literally no reason while you're out on the town? My personal favorite is the hand on the lower back from a complete stranger when they're trying to get by.
Now, there's actually a dress that will record every single time you're groped – and it's sending a powerful message about sexual assault.
The "smart dress" was created through a partnership between the ad agency Ogilvy Sao Paulo and the beverage company Schweppes. It's a pretty, glittery dress made with powerful sensors that are triggered when touched. To demonstrate the serious issue of non-consensual public touching, three women attended a party wearing the dress to clock how often they were assaulted throughout the night.
Every time the women were groped, a signal was sent through WiFi to a platform that translated all the data. Turns out, the three women were inappropriately touched a whopping 157 times in nearly four hours. Also, video from the night will fill you with a hot rage.
If we want to break that down even further, the women were touched more than 40 times per HOUR. That's an insanely high statistic but many women took to Twitter to say that they're not surprised at all.
They also expressed frustration that women even need to wear this smart dress to prove that groping is such a big issue.
https://twitter.com/jetpack/status/1068659500637409281
Many made some very important, simple points about inappropriate touching – like just don't do it. Ever. Also, big bonus points for all the Twitter users who came up with the electroshock dress idea. Maybe Smart Dress 2.0?
https://twitter.com/jetpack/status/1068486293741608960
After the evening was over, men from the party were invited to watch footage of the women being groped while wearing their "smart dress." They seemed completely shocked by what went down. "That's so ridiculous," one man said. "Look! He's going straight for the kiss!" another pointed out.
Honestly, this video should be mandatory viewing for all men who still don't quite understand the invasive world that women live in and the unnecessary micro-aggressions we have to deal with every single day.