Nearly All Of America's Top Science Students Are Children Of Immigrants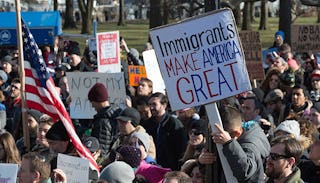 Image via BRYAN R. SMITH/AFP/Getty Images
A new study reveals the valuable contributions of immigrants and their children to this country
Stories about families of undocumented immigrants being ripped apart have been occupying the headlines and breaking our hearts lately, but the impact of harsh immigration policies — including more stringent H-1B visa requirements — could impact our country for generations to come, especially since children of immigrants make up the brightest science students in the country.
A new study released by the National Foundation for American Policy – a non-profit, non-partisan public policy research organization that focuses on trade and immigration – found that 83 percent of the finalists (33 out of 40) of the 2016 Intel Science Talent Search were the children of immigrants. Thirty of the 40 finalists in the competition, which is the leading science competition for U.S. high school students, had parents who worked in America on H-1B visas and then later became green card holders and U.S. citizens.
Forbes puts this in perspective by explaining, "even though former H-1B visa holders represent less than 1% of the U.S. population, they were four times more likely to have a child as a finalist in the 2016 Intel Science Talent Search than were parents who were both born in the United States."
The longstanding competition, which was renamed the Regeneron Science Talent Search this year, has been founded and produced by Society for Science & the Public — a nonprofit organization dedicated to promoting science, education, and literacy — since 1942.
Among the 40 finalists, 14 had parents both born in India and 11 had parents both born in China. Other countries represented included Canada, Cyprus, Iran, Japan, Nigeria, Singapore, South Korea, and Taiwan. Seven of the finalists were the children of parents both born in the United States.
Researchers noted that the finalists who were children of immigrants expressed deep appreciation for the sacrifices their parents made so they could get the best education possible.
"Seeing what my parents did to make a better life for their children has inspired me to do everything I can to succeed. This is the land of opportunity," Augusta Uwamanzu-Nna, one of the finalists, whose father came to America on an H-1B visa, told researchers.
The things these kids are accomplishing in their less than two decades on the planet is nothing short of remarkable. First place for research went to Amol Punjabi for developing software to be used by pharmaceutical companies to combat cancer and heart disease. He's also co-authored articles on nanoparticles. Maya Varma won an award for her innovative way of using "$35 worth of hobbyist electronics and free computer-aided design tools to create a low-cost, smartphone-based lung function analyzer that diagnoses lung disease as accurately as expensive devices currently used in medical laboratories." Talk about badass.
Researchers also found that personal experience shaped the direction of the kids' research. One of the finalists set out to find a new way to grow human kidneys from stem cells because of his mom's life-saving kidney transplant and his own diagnosis of polycystic kidney disease. Another finalist who had an aunt with epilepsy created software to predict epileptic seizures.
"The findings tells us that if we prevent high-skilled foreign nationals from coming to America, we will not only lose their contributions but the significant contributions that will be made by their children," the researchers noted.
Currently the number of H-1B visas available each year is capped at 85,000, with eligible applicants vying for the coveted visa via a lottery. Given the rigorous eligibility requirements and the specialized positions the applicants are seeking, there is a logical argument that there should be more H-1B visas available, but instead, the current administration wants to make the process more difficult, including reforms that would give visas to the highest bidders.
U.S. Customs and Immigration Services (USCIS) has already announced that, effective April 3, it will temporarily suspend premium processing for all H-1B petitions, which means that H-1B visa applicants will no longer have an option of choosing the 15-day expedited service option, and processing times could take up to 8-12 months.
The noteworthy contributions of immigrants and their children aren't just limited to the best and brightest students, however, but include all those children who will go on to be teachers, nurses, lawyers, professors, artists, entrepreneurs, chefs, doctors, engineers, parents and all-around exceptional people. Immigrants are what this country was founded on, and they truly make America great.
"It is sometimes a cliché to say that children are our future," the study concluded. "But in America, as in other countries, it is the truth."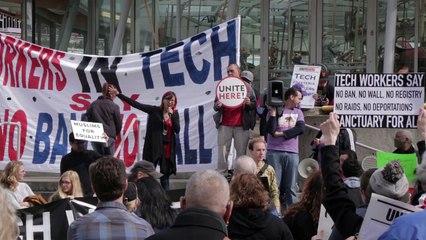 This article was originally published on