Here's Your 'Snack Mom' Survival Guide Because You're Gonna Need It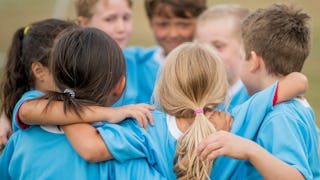 FatCamera/Getty Images
There's no escaping it. Nowhere you can hide. No take-backsies. At least once in your life as a mom, you will become SNACK MOM. Yes, YOU will be responsible for organizing and/or providing all snacks for the hangry youth of your child's sports team, faith-based activity, or school classroom.
And, yes, while you probably know better and should have never signed up to begin with — thanks for blocking the exit, Janice — you got this. Like, you're really gonna nail it. You've got the dietary restrictions on lock, have referenced the spreadsheet and marked the date without REPLYING ALL, limbered up and did your stretches to carry every single one of those cases of water without dying midway from car to sideline. Here's our cheat sheet to slaying your newly minted Snack Mom status.
1. Do Not Get Creative
Know your goal and don't deviate: salty and sweet with a liquid. Just run down the middle aisle with your arm out and let every single bag of pretzels, chips, anything crunchy fall into your cart. Keep it moving. Then, hit the water aisle, lift those cases, and throw out your back. There's no gain without pain in Snack Mom-ing.
Pro-tip: Go veggie chips. No one can argue you didn't try for something healthy. "Veggie" is RIGHT THERE ON THE BAG.
2. OK, Get Creative But Fake It Like You Made It
You've succumbed to Pinterest and the pressures of Helen The Great who majored in culinary arts at Hogwarts, and you're just a non-magical woman with two regular hands in desperate need of a nap sometime this decade. Using store-bought as your base, fake-make it. Halve icing on plain cupcakes and add your own sprinkles or colorful patterned liners. Or roll refrigerated Break 'N Bake cookies into balls instead of popping them into the oven as squares. Make the perfect look imperfect and there you go — you made something.
3. Store Pickup at Kroger
You can skip the grocery dash and boot-camp-like workout by ordering all those snacks online and then pulling up to Kroger like a queen. Pop that minivan rear door and let the fine folks at Kroger load your snack haul. I think this is called "dripping in finesse." Nah? Well, it should be.
4. Send Literally Anyone Else
Spread the wealth. If you have a partner, signing your name is really a two-fer. Sure, "Snack Mom" is the title, but you're a figurehead for the whole operation. Delegate and then take the glory. Management 101 right there.
5. You Completely Forgot and the Panic Sweats Have Started
First, breathe. Next, assess the situation. And finally, just know that the next 10 minutes may be painful, but that's like 30 seconds in mom time. Mentally assess your own snack situation at your house. What's there? If it's anything, grab all of it. Have money to blow? Throw a curveball and invite the team to the ice cream place down the street after the game. Or tuck and roll the kids and then burn rubber to your nearest store and follow step 1.
6. Double Down on Damsel
Sometimes it just pays to be like, ohhh, this is sooo heavy, can you help me. But you gotta say it as a statement, not a question. Or go straight for the jugular: "Josh! This water is for the team, will you take it to them." This is how you survive, despite your best training and flexing, the water bottle shuffle. Just don't even try it, hand them off.
Pro-tip: Leave your snack and beverage haul at your car and let the team figure out how they want to handle it. Technically you brought it, you just didn't BRING IT.
7. Bask In The Glory Of Victory — They Were Fed
YOU DID IT. Whatever you brought wasn't just good, it was good enough. Way to go! You rolled in with snacks and rolled out a winner.
*CONFETTI CANNONS*
The Kroger Family of Stores now gives customers the convenient ability to shop online for all of their favorite products! Customers can pick up their order at the store, without leaving their car, or get them delivered right to their home.Visit Kroger.com or download the app today on iTunes or Google Play to start shopping online today!
This article was originally published on