SNAP Recipients - You Can Now Order Groceries Online From Major Retailers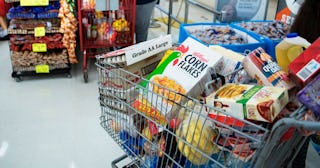 Brendan Smialowski / Getty
If you use SNAP benefits, you will soon be able to order your groceries online and even have them delivered
For the first time, the U.S. Department of Agriculture (USDA) has approved food stamps recipients using benefits to buy groceries online and also have them delivered to your home. If you're a recipient of the Supplemental Nutrition Assistance Program (SNAP) and live in New York City you will be the first to "test out" the use of your benefits for online grocery orders.
Major retailers like Walmart, Amazon, ShopRite, FreshDirect, Safeway, Hy-Vee, and others will join the New York pilot program, with the test eventually expanding to the rest of the state as well as Alabama, Iowa, Maryland, Nebraska, New Jersey, Oregon, and Washington. Other grocery chains may also sign on board to the program as it expands.
More than 38 million Americans receive food stamps, and the USDA hopes each and every one of them will eventually be able to make online purchases. Being able to compile online orders is extremely convenient, especially for working parents and the elderly, also for people who are disabled.
"People who receive SNAP benefits should have the opportunity to shop for food the same way more and more Americans shop for food — by ordering and paying for groceries online," Agriculture Secretary Sonny Perdue tells CNN. "As technology advances, it is important for SNAP to advance too."
Ever since online grocery ordering and delivery became a thing, it was instantly life-changing for so many people. Parents especially benefit from the service — no more toting restless kids up and down aisle after aisle, where you eventually become so distracted you forget a handful of things on your list anyway. Being able to order online eliminates all of that.
If you receive SNAP benefits you should be able to benefit from all the same conveniences anyone else does. Walmart has been testing a separate pilot program for SNAP recipients to be able to order groceries online and then pick them up at the store — delivery service was not an available option until now. As part of the New York pilot program, Amazon will waive its Prime membership fee for SNAP customers who want to shop for groceries and household items through AmazonFresh and Prime Pantry.
"What we're trying to get out of it is furthering our commitment to making food accessible," says Kristina Herrmann, who oversees Amazon's participation in the USDA pilot. Delivering fresh produce is already something many online retailers struggle with, so that's one obstacle in the way of this program — especially for city neighborhoods and rural areas. Online access is crucial here, too, clearly. Areas with more families who have a low income are less likely to have reliable internet access, but orders can still be placed from a smartphone.
Hopefully, all 50 states will be able to get on board with rolling out their own programs very soon so everyone can experience the convenience of not having to leave the house to grab food.