Snap's 'Gender Swap' Filter Is Giving Men A Taste Of What It's Like To Be A Woman On Tinder
by Madison Vanderberg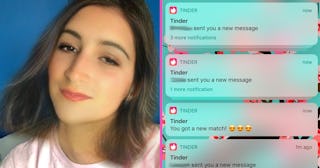 Courtesy of Garrett via Twitter
Men are using new Snapchat filter to find out what online dating is like as a woman
Snapchat recently rolled out something the internet is calling the "gender swap filter" or the "gender change filter" and social media hasn't been this obsessed with a Snapchat filter since they turned people into puppies. You might have noticed your lady friends sharing photos recently where they look like their long-lost brothers because the new gender swap filter lets women see what they'd look like as men and vice versa. Thanks to this new technology, men are using the filter to create fake Tinder profiles and find out what it's like to date as a woman. Spoiler alert: It's not fun!
"Made a fake tinder with my girl filter, smh guys are pigs," a Twitter user wrote on May 9th, which set off a trend of men sharing their faux profiles and the responses they were getting from suitors online.
Shockingly, the majority of the messages that the men were receiving were pretty tame, but most men seem to be unaware of the deluge of messages (both good and bad) that women receive on dating apps.
One guy noted in his bio that the profile was a joke and still got more matches in three minutes as a woman than he ever had with his authentic Tinder profile in three years. Call us crazy but it's almost like a lot of men don't read bios and swipe right on everyone indiscriminately.
https://twitter.com/jetpack/status/1126958272164970498
Someone else pointed out that "literally all guys on this are shirtless."
https://twitter.com/jetpack/status/1127071676456476672
The majority of these gender swapping Tinder dudes were mostly just shocked at how weird and exhausting it must be to online date as a woman.
Garrett Mumford, who gave the Snapchat photo swap a try on Tinder, tells Scary Mommy that most guys simply wanted to chat about Game of Thrones, but said that the number of messages he was receiving was "unbelievably overwhelming." He also shared his Snapchat swap pic with us.
"I did have one guy message me about five times in a row within three minutes which seemed a bit pushy," Garrett said. "Overall, the 45 minutes I had the account were unbelievably overwhelming with the amount of messages I had and the pressure of responding back to them."
After an hour Garrett deleted his faux account and admitted that "being a woman on Tinder gave me anxiety."
These guys were inundated with messages, but the actual content of the messages wasn't as bad as the kinds that a lot of women actually receive online.
One guy was shocked by the number of corny pick-up lines he was receiving when a random girl swooped in on Twitter to tell him that "those are tame, it gets a lot worse." Another woman chimed in to confirm that most of these messages were relatively normal and then shared an actual NSFW ice-breaker she'd received from a man on Tinder.
Obviously, Tinder is more of a dumpster fire than other dating apps (Bumble tends to get a better rap), but these gender swapping Tinder guys all seem to be learning that actual woman-identifying individuals face an onslaught of bizarre pick-up lines all day long from dudes who are seemingly sending them en masse, and then on top of that, we have to fend off creepy and sexually explicit messages as well. Fun!
Who knows, maybe this social experiment will affect how some men approach women online in the future. Fingers crossed and happy swiping.
This article was originally published on