Snapchat Is Planning To Install Tools To Help Parents Keep Kids Safe
by Erica Gerald Mason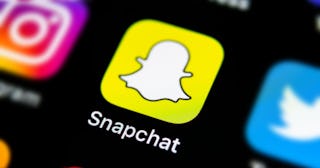 BigTunaOnline/Shutterstock
Social media platform Snapchat is aiming to make the space safer for teens
The days of the Wild West of social media sites may hopefully be coming to an end. In the wake of both Instagram and Facebook coming under fire for how they handle teens on their respective platforms, Snapchat has announced new, upcoming family-friendly procedures.
Snapchat CEO Evan Spiegel spoke at WSJ Tech Live about his plans for parents to have more transparency about what their teens are doing on the platform. "One of the goals with the product is to open up a dialogue between parents and their children about their experiences on the app," said Spiegel, who announced that there is an in-house parental control system in the works called the "Family Center."
The company gave a statement to The Verge about the new initiative where they laid out their hopes for the new project. "The parental tools we are developing are meant to give parents better insights to help protect their kids, in ways that don't compromise their privacy or data security, are legally compliant and offered at no charge to families within Snapchat."
Parents can currently use Snapchat parental controls, but they don't offer as much help as third-party apps. Detractors claimed that by giving third party access to collect information on teens would set a dangerous precedent for privacy and information security.
Earlier this year, Snapchat vowed to make changes after parents who lost their son to a drug overdose asked the company to work with a third-party parental control software app. At the time, Snapchat admitted that it wanted to tread carefully about sharing private user info with third parties and that instead it was looking into developing its own parental controls.
And let's not forget the obvious – will kids use an app when they know their parents are closely monitoring their conversations on it? As parents, it's a no-brainer; we should know what (and who) our children are exposed to. This upcoming tech by Snapchat will allow parents to open a dialogue with their kiddos. Something Spiegel believes, as parents should begin to have conversations about the tech their kids are using and learn how to have appropriate communications on these platforms.