Twitter Fears That Old 'SNL' Cast Is Leaving The Show After Emotional Finale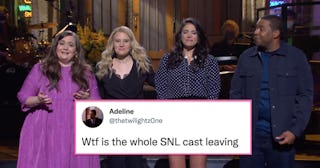 SNL/NBC/Twitter
Emotional Season 46 Saturday Night Live finale has many wondering online if this is the end for the older cast
The cast of Saturday Night Live said goodbye to the weird, COVID-filled Season 46 last night but the internet seems to think it's also the final episode for a number of marquee cast members too, based on well — everything about last night's episode. Pete Davidson basically said goodbye during his Weekend Update sketch. Cecily Strong, Aidy Bryant, and Kate McKinnon all cried during the cold open. And Kenan Thompson well, he's starring in a sitcom now.
Though nothing has been confirmed, the internet is freaking out that Strong, McKinnon, Kenan, Bryant, Davidson, and Thompson — aka the OG cast — are all leaving the show now.
Thompson, Bryant, Strong, and McKinnon have all been on the show for more than nine years, and the core four anchored the cast tribute during the cold open. In lieu of a typical political cold open, the four cast members stood on stage and reminisced about their bizarre COVID year on the show, from constant nose swabs to their interesting decision to stack with SNL audience with exhausted first responders who seemed like they'd rather be saving lives than watching sketch comedy. It was an emotional send-off for a rough year.
The tell that your favorite cast members might be leaving, and emphasis on might, as nothing has been confirmed yet, was that Byrant, McKinnon, and Strong ended the cold open with tears in their eyes as McKinnon said, "This is a year when we realized we are more than just a cast, we are a family." Could be tears for getting through a season of sketch comedy in a pandemic, but could also be hinting at something greater?
Later in the show, Davidson did his thing on Weekend Update and signed off by saying, "I'm very grateful to be here, and it has been an honor to grow up in front of you guys." Which sounds an awful lot like a goodbye, no?
Also, although Thompson has joked in the past that he's never leaving SNL, his NBC sitcom Kenan was just picked up for Season 2, which films in Los Angeles. Not only that, but impressions-master Melissa Villaseñor posted on Instagram Stories recently that she's "not coming back next year. Cause I deserve better," though she reportedly denied it in a follow-up post.
Whatever the case, I'll be sad not to have new Kate and Aidy sketches or hear Kenan's chuckle or watch a pitch-perfect Cecily Strong character every Saturday night. Or maybe this was all a big overreaction and we'll see them all again next season? Either way, bravo to the cast of SNL for making us laugh every week through the darkest damn year.