'SNL' Gives Us 'The Office' Reunion We Didn't Know We Needed
by Cassandra Stone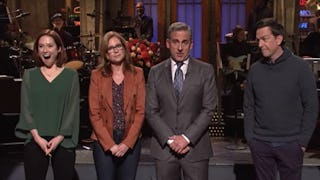 Image via YouTube
Steve Carell finally gives an answer about an 'Office' reboot
It seems like 2018 has been the 'Year of the Reboot' when it comes to beloved sitcoms of yesteryear. So it's no wonder that a possible reboot of The Office was brought up not once, not twice, but a million times during Steve Carell's opening monologue last night.
As Carell launched into his opening monologue, a pretend audience member interjected, "My question is: Will you ever reboot The Office?"
"I don't think so," Carell replies. "It was a great experience. I love all those people, but I just don't think it's the best idea. I think maybe we should just leave it alone."
Which, YES, truly great things can live in the past and still be great — but that answer didn't prove very satisfactory during his monologue. Soon enough, a handful of everyone's favorite cast members from The Office showed up to bust Carell's hump about not doing a reboot.
Ellie Kemper, who played Erin, begged Carell to "get that money, Steve" and then called him a jerk when he refused to agree to the reboot. Ed Helms, who played Andy, and Jenna Fischer, who played everyone's favorite receptionist, Pam, also joined in on the fun.
"Do you remember the last words that Pam secretly whispered to Michael as she left for Denver?" Fischer asks. "She said, 'Steve, don't be a dick. Do the reboot.'"
Carell's real-life wife Nancy – who appeared in multiple episodes of The Office as Carol the realtor AND used to work on SNL — also made a cameo. "We think you should probably do the show," Nancy says. "We don't really need you to hang around anymore. Right, kids? We're good."
While the desire for a reboot of such a highly-quoted, highly-GIFable show like The Office is understandable, it's also understandable why Carell might want to let Michael Scott and all of his cringeworthy-ness stay in the past.
We've got enough of that going on in real life, and you never want to mess with a show that's already great the way it is.
But this little reunion? Ah, so great.