SNL's Sketch About Those Mom-Marketed 'I Love Wine' Signs Got Real Dark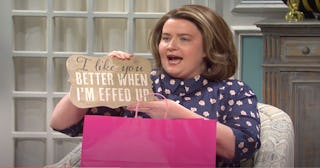 YouTube/NBC
The wine signs were aplenty in this Aidy Bryant 'SNL' sketch
Saturday Night Live always has relatable sketches — from the now-infamous "I Got A Robe" skit to "Best Christmas Ever" featuring Matt Damon, but the one from last night's show got a little too real, especially for moms who love both wine and home decor signs talking about wine.
Regina King hosted last night's SNL and one of the skits she was in included a fake birthday party for cast member Aidy Bryant's character (who also hilariously plays Ted Cruz in another skit). It features some of SNL's comedy powerhouses like Heidi Gardner, Cecily Strong, and Chloe Fineman, who all seem to have the same idea when it comes to gift buying for their friend.
Bryant's friends begin lavishing her with gifts and the theme is apparently cheesy wood slogan signs, of the "Live Laugh Love" variety. Things start off innocently enough with one sign reading, "Dinner Choices 1. Take It 2. Leave It," and everyone laughs because we all have that one friend who loves cheesy wood signs.
Things take a sharp turn though when Bryant's character gets more pointed signs that say, "Wine gets better with age, I get better with wine," and "Can you drunk how tell I am?" They all laugh and laugh and sip their wine. Then, things really go off the rails. Next up is, "I like you better when I'm effed up," and, "Hey Barkeep, I wanna die tonight."
Bryant finally stops the party, asking if her friends think she's a drunk. "These are all about drinking. Are you guys trying to tell me something? We all drink during lockdown. We're all just moms having fun, aren't we?" she asked. They all assure her that the signs were meant for a little fun but when she opens, "I put wine bottles in other people's recycling bins so the garbage men won't know how much I go through in a week," shit gets real.
Of course, these signs are funny but no one likes to get singled out for enjoying some vino, especially after this past year. While the whole "mom wine culture" is dangerous if it gets out of control, no one needs a bag full of bad jokes for their birthday. Doesn't it feel that there is an undercurrent of judgement when you get a "wine sign" as a gift? It's like, what are you trying to tell me, Jan?
The signs, unfortunately, don't get much better, and Bryant is seemingly done with both her friends and the party. But then one last gift changes her mind. "I love the nights I can't remember with the friends I can't forget," the sign reads. And they all cheers to that. Of course, that one also reveals another bad wine joke on the other side, but let's end things on a high note here.