Snooki Shares Emotional Photo Of The Moment She Met Her Son
by Valerie Williams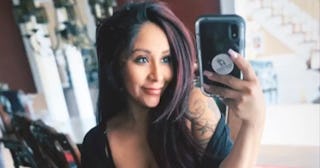 Nicole "Snooki" Polizzi/Instagram
Snooki thanks her mom for capturing the sweet moment she met her son Angelo
Jersey Shore alum Nicole "Snooki" Polizzi is now a mom to three ridiculously cute kids with husband Jionni LaVelle, the youngest born just a few days ago. She's been sharing photos of the little guy with his two older siblings, but a recent post featuring Snooki and her son is taking the cuteness cake.
Snooki basically got the photo every new mom wants of that incredibly breathtaking moment where they first meet their little one. It's honestly magical. It was Snooki's mom who did the honors capturing the reality star in tears as she first snuggles her new son. "So thankful that my mom got a shot of this beautiful moment. Pure love & happiness," she writes.
Wow. Is someone chopping onions? This is simply too much. Also, if you told me back in 2009 when I first started addictively watching Snooki and the rest of the Jersey Shore gang getting their GTL on (shush, you did it too) that I'd one day be shedding actual tears over a heartfelt photo of Snooki snuggling her baby boy I would've possibly not believed you. And yet, here we are. She's a happy momma with a gorgeous brood of babies who look just like her and we're kind of dying of cuteness. Look at sweet big bro Lorenzo and big sis Giovanna. Can't. Handle it.
https://www.instagram.com/p/ByMEkKoFhTB/
We're not the only ones melting. Fellow celeb moms like Amy Schumer and Jersey Shore cast mate, Jennie "JWoww" Farley commented on the sweet post-birth snap along with other moms who were just feeling the moment.
I mean, can you blame them? It's too much. Look at this angel. And his name is Angelo, so that fits.
https://www.instagram.com/p/ByF3MO-l_PB/
Snooki's raw and beautiful moment of the first seconds after she gave birth to her son is something every mom can relate to, but so is her shot of some postpartum must-haves she might offer in her New Jersey clothing boutique soon.
She's also keeping fans updated on her post-baby workout plans — once she can stop wearing a diaper, that is.
https://www.instagram.com/p/ByP8j5Sl438/
We hope Snooki continues to keep it real and share more sweet moments with her adorable littles that every mom can relate to.
This article was originally published on