Snoop Dogg Narrating A Beauty Tutorial Is Just As Good As You'd Think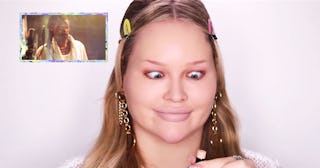 NikkieTutorials / Youtube
Snoop Dogg needs to narrate all beauty tutorials from now on, please and thank you
Seen any good beauty tutorials lately? LOL, no you haven't — not until you watch this amazing makeup routine video narrated by the one and only Snoop Dogg.
That's right. It seems Martha Stewart's very unlikely BFF is diving into the world of YouTube beauty tutorials and honestly, it's the life upgrade we deserve. He worked with beauty vlogger and makeup artist Nikkie de Jager, aka, NikkieTutorials, to roll out his makeup application narrating debut. De Jager is the the new Marc Jacobs Beauty global artistry adviser, so this video was all about highlighting some of the company's products. "Today I'm getting some help from a very special guest: SNOOP DOGG!" she captions the video.
And help her he did.
"You know I got your back Nick-knack," he says as she gets started. "She has to get the brush ready, let the brush get used to her face." He encourages her to "get a little bit of that cream on that brizz-ush."Because of course. He calls primer "the roots" and now she's "about to lay down the foundation" and honestly, I'm not sure I've ever heard a more accurate description of those items.
"Tap it on there real nice… one shade, one blend, one color," he says. And like, it completely was.
Then, Nikkie busts out the concealer, or in Snoop speak, "the double up." She applies it under her eyes and then gets a little creative on her forehead. "Get that heart right on the forehead… love is love!" he says. Once she wraps it up, he's extremely in awe. "This is like a painting by Picasso," he says.
Snoop refers to her contouring as "a certain flavor she's looking for" and once she's got it, he's pretty much thrilled.
As she starts working on her smoky eye, Snoop notes that it's not exactly the kind of "smoking" he's used to. Nevertheless, he's all in. "Smoke it out baby, for me," he says.
"Dippin' it, flippin' it, making it look dynamic," he says. When she asks if he's liking her look so far he responds in the affirmative."I'm loving it, baby!"
Snoop thinks her highlighter makes her look like "a real star" with all that glitter and TBH, we fully agree. She's stunning and insanely talented.
He tells her to"sprinkle some air and some water" as she applies her setting spray and that's officially what we're calling it from now on, don't @ me.
When she shows off the finished product, Snoop is nothing short of amazed. "I'm astonished, I'm proud, I'm happy to be a part of it," he says. "When you close your eyes, you look like a butterfly. It's beautiful."
He's so positive and encouraging I'd like him to narrate my morning beauty routine forever, please. At least we have this amazing video to refer back to whenever we need a boost only Snoop Dogg can give.