'So You Think You Can Dance' Did A Powerful Routine To Protest Gun Violence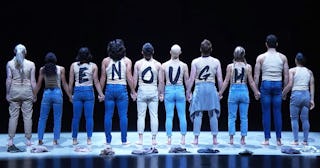 So You Think You Can Dance/YouTube
A routine choreographed by a So You Think You Can Dance alum highlights the emotional and physical toll of mass shootings
A powerful number opened this week's episode of So You Think You Can Dance, as all 10 of the contestants took to the stage to do a routine inspired by America's growing problem with gun violence.
In the dance, Benjamin Castro, Gino Cosculluela, Eddie Hoyt, Madison Jordan, Anna Linstruth, Bailey Munoz, Sophie Pittman, Mariah Russell, Ezra Sosa, and Stephanie Sosa danced with movements that evoked the sudden jolts of violence that accompany mass shootings, and then the grief and fear that ripple across communities as a result. It was a haunting routine that ended with the dancers taking off their shirts and turning around to reveal "ENOUGH" written across their backs.
The dance was choreographed by Travis Wall, a SYTYCD alum and Emmy-winning choreographer, and set to Harry Styles' "Sign of the Times."
"The kids were crying yesterday after doing the piece," Wall told Gold Derby in between rehearsals. "Just the state of everything going on right now with all the gun violence and how many people we're losing."
He added, "This is another one of those pieces where you know the weight of it before it's going to hit the air… This piece speaks volumes. I'm excited to put it out there because people need to see it, people need to wake up. Enough is enough."
Wall's piece came at a time when people are especially (and understandably) nervous about the threat of gun violence in America. Following the particularly deadly weekend that saw shootings in both El Paso, Texas, and Dayton, Ohio, marking our 250th and 251st mass shootings in 2019 so far, people have been sharing their fear and anxiety over knowing that the next shooting could happen at any time, but we don't know when or where — or if we'll be caught in it.
A 2016 study by the American Journal of Medicine found that people in the U.S. are 25 times more likely to die from gun violence than in any other developed nation. It's so bad that other countries are warning tourists away from visiting the U.S., because of the likelihood they'll die at the end of a gun.
Why isn't all of this enough? Why are our lawmakers still staunchly refusing to act? In a world where we already know how to solve the problem of gun violence — where the U.S. is the only developed nation on the planet that still hasn't followed what works and solved it — when will we be tired enough of feeling so unsafe and elect people who will act? I'm tired enough. Why aren't you?