How This Social Media Campaign Is Working To Curb Domestic Violence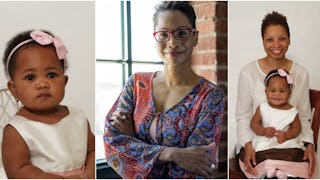 Images via L.Y. Marlow
Ten years ago, L.Y. Marlow, the founder of the domestic violence awareness organization, Saving Promise, received a phone call from her daughter that would change her life forever.
"The date was August 25, 2007 when I received a harrowing phone call that my 22-year-old daughter had been beaten, strangled and nearly killed for the second time by her boyfriend while their six-month-old baby girl named Promise lay on the bed beside her," Marlow tells Scary Mommy.
Marlow was devastated, of course. But once she got her daughter and granddaughter to safety, she became a woman with a mission.
You see, her granddaughter, Promise, was the fifth generation of women in her family who had been victims of domestic abuse. And Marlow, in the midst of a successful corporate career, did the only thing she felt she could do at this pivotal moment in her life.
She quit her job, and started Saving Promise, a non-profit whose mission is to "disrupt the cycle of intimate partner violence in at-risk adolescents and young adults and create safer communities for generations to come." The organization is, of course, named about Marlow's granddaughter, Promise, who Marlow tells Scary Mommy is now in her custody.
After working with her non-profit for the past decade – and forming successful partnerships with organizations like Harvard Learning Lab – Marlow tells Scary Mommy that she has felt pulled to do something more. Something real, more effective – something that could do more than educate and spark conversation.
Something that could really touch the lives of these women and children who were living through hell.
"[I]n the time of #MeToo, when domestic and sexual violence has become public health crisis' that affects 1 in 3 women and girls around the world, it's time we don't just give a damn, but do something about it," says Marlow.
That's when the idea of the Don't Just Give a Damn campaign came to her. It's a social media campaign that begins October 1st, which is Domestic Violence Awareness month.
There are three basic tenants of the campaign. Saving Promise is asking anyone who feels moved to participate to:
1. Take action.
This could be in the form of talking to members of your community about domestic violence. It could involve sharing a selfie of yourself in support of the movement, or sharing your own story (you do not need to show your face if you are not comfortable). Include the hashtag #DontJustGiveADamn with your posts.
2. Donate $1 to Saving Promise.
This is an small, but important investment in the work the organization does to create more prevention programs and public awareness. And it's especially important because of the looming threat of the Trump administration to cut funding for the Violence Against Women Act, where organizations like Saving Promise receive the bulk of their funding.
3. Share the #DontJustGiveADamn campaign with your friends.
And refer them to Saving Promise's list of 11 ways to get involved in domestic violence awareness and prevention.
This is all so important, folks. As Marlow points out, Domestic Violence Awareness month is every year, and yet it doesn't get nearly the same visibility as something like Breast Cancer Awareness month. And yet, both issues affect women deeply and frequently (1 in 3 women and 1 in 4 men will have been victims of intimate partner violence in their lifetime).
We all need to give space for each other's stories, to provide resources for victims to break free from these abusive situations, and become aware that this is an issue we all need to care about and help prevent.
That's why campaigns like #DontJustGiveADamn are so very important. We can't be all talk about these kinds of things. We need to do something. Now.
"There's a lot of visibility of late, over the last year or two, around domestic and sexual violence," says Marlow. "We've begun talking about it, but no one is doing the other part: taking action. And that's what inspired me to launch this campaign."
To support Saving Promise's campaign, you can visit the campaign's landing page here. And look for the #DontJustGiveADamn hashtag on social media starting October 1st.
If you are in an abusive relationship, and need to escape to shelter, please visit Domestic Shelters to find a safe haven, and for counseling and help. You can also call the Safe Horizon domestic violence hotline: 1-800-621–HOPE (4673).
This article was originally published on