Photo Series Shows That Cellphones Are Making Us Zombies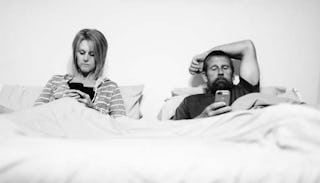 Photographer aims to inspire people to spend less time on social media
Facebook, Twitter, Instagram, Snapchat – most Americans enjoy the easy communication social media provides. But one photographer wants to highlight the potentially damaging effects it can have on kids, families, and communication in general.
Chelsey Hale owns Cherished Moments Photography in Watertown, New York and typically shoots newborn and family photos. She decided to branch out and create a series on social media after writing her senior paper on technology's effects. "Families are becoming very detached from each other due to social media," she told The Huffington Post. "Nowadays at the dinner table, instead of discussing how everyone's day went or making plans for the weekend, family members are scrolling through their news feeds." The black and white photos mostly feature her mom, dad, and sister with her friends making an appearance in some of the shots.
"Every day we waste thousands of seconds choosing to be on our electronic devices instead of cherishing the time we have with the people we love – how ironic that once we have lost someone we care so greatly for, all we ask for is just one more second," Hale wrote as part of her caption for the above photo.
"We have become dissatisfied with ourselves and our own lives because we are too busy being jealous of the family posting pictures from Hawaii, the person who just posted a picture of their brand new car, or the person with the perfect body," the photographer said about the above photo.
Hale also shared her opinions on parenting as part of the series saying, "Children need attention, they need approval, they need someone there to tell them 'great job' and to build up their self-esteem. We, as parents, siblings, aunts, uncles, cousins, etc., need to stop tearing down their confidence by choosing to pay more attention to the devices in our hands than the children that we love."
"How many times do you check your phone when you're out to dinner with your significant other? How long do you lay in bed next to each other, scrolling through Facebook instead of talking about your days and telling each other 'goodnight'?" she asked people online with the above image.
Her images and corresponding statements are powerful messages that essentially have the same idea – we should replace some of our social media time with face-to-face interaction with our friends and family. The sentiment isn't new as more and more research is done on social media. But we're hesitant to say all families spend every moment on their phones. It's also important to note that parents and kids have always had ways to ignore each other, which is totally healthy. Everyone needs some alone time. Coming from a long line of nerds, books were my family's way of distracting ourselves at the end of the day. My parents were still there for most basketball games, and we never missed a birthday.
Hale also focused on some dangerous situations that social media can play a role in like bullying and acts of violence being filmed but not necessarily responded to. "The amount of videos that are uploaded every single day to Facebook or YouTube of people fighting and not a single person attempting to break it up is just revolting," she said alongside this image that illustrates the concept.
"We miss out on so many amazing moments and experiences because our faces are shoved in our phones," the photographer explained. "Stop missing out on the life that is right in front of you just to read about the lives of people online."
This article was originally published on