Social Media Is Making It VERY Easy For You To Register To Vote Today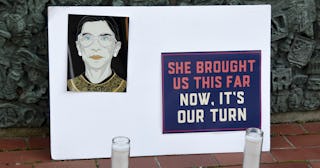 SOPA Images/Getty
National Voter Registration Day is today, Sept. 22, and it looks a little different this year during the pandemic
National Voter Registration Day is typically marked by in-person events at high schools, universities, concerts, and other large areas where people (particularly young people) gather across the country to encourage voter turnout. This year, things look a little different amid the COVID-19 pandemic. Which is why it's super important that social media sites like Facebook and Instagram are making it very easy for people to register to vote for the first time.
Facebook initially pledged to register 4 million voters ahead of the November election, and is already more than halfway to its goal. Approximately 2.5 million registrations have come in from Facebook, Instagram, and Messenger users, according to USA Today.
During the 2016 and 2018 elections, Facebook registered 2 million new voters, so the social media giant has already surpassed that number for 2020. Efforts to register voters today have ramped up from previous elections,
Facebook made the announcement as it prepared to unfurl new efforts to register voters around National Voter Registration Day on Tuesday. Later today, Facebook Watch will stream a one-hour special "Vote-A-Thon 2020" hosted by YouTuber Liza Koshy. Facebook is also launching a #PledgeToVoteChallenge today. To join, type #PledgeToVoteChallenge when creating a new Facebook post.
There's an entire section of Facebook dedicated to voter registration efforts: The Voting Information Center. This is where voters can find deadlines for voting by mail and requesting mail-in ballots according to their state guidelines. You can register to vote here, or check your voter registration to make sure it's accurate and up-to-date, too. If you're logged into your Facebook account, the Voting Information Center should already be pre-populated with information according to your home state.
For its part, Instagram is teaming up with TurboVote to make voter registration simple. You can add "I voted" stickers to your Instagram stories that link to voting tool sites like VotingInfoProject.org, an organization that provides official information to voters about "where to vote and what's on their ballots where they look for it most—online," per the organization's website. Instagram is also tailoring ads and stories to provide voting information on your feed.
Twitter is also hopping on board the National Voter Registration Day train by rolling out its biggest push yet to get Americans to cast their ballots for the November election. Every Twitter user in the United States will get a prompt in their timeline today to register to vote or confirm their registration via TurboVote. A push alert in the notifications tab will steer users to a Twitter Moment with additional voter registration information.
This unprecedented effort to get people to register to vote and make sure their registration information is correct is a joint effort with social media companies to increase turnout during the most highly contentious presidential election in recent history.
A record number of Americans are planning to vote by mail due to the pandemic, too, which makes it all the more vital that people get registered and stay informed about voting guidelines.