I Have A New Leggings Obsession: They Are 'Buttah' Soft And Only $13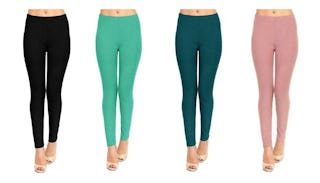 Amazon
Last month, I told you all about the yoga pants that I simply could not live without. Comfortable, durable, high-waist panel, solid colors. They are an all-around win, but…
The comment section was also filled with feedback saying VIV collection leggings were an absolute must. So, of course, I had to check them out, and though I never doubted you all…
I am happy to report that Scary Mommy readers do a damn good job of lookin' out for their fellow moms on a mission to find comfortable, stretchy pants.
These are amazing. So freaking soft. Not see-through. Only $13 to $14. And according to the comments, people are genuinely stoked that they don't have to host a party, join a group, or jump through any hoops to snag a pair.
At this price, I think they are worth a shot for anyone who likes to be able to have full range of motion while going through their daily life.
Editors may receive samples and/or a share from purchases made via links on this page.
This article was originally published on