'SoHo Karen' Continues To Prove She's The Actual Worst In Shockingly Rude CBS Interview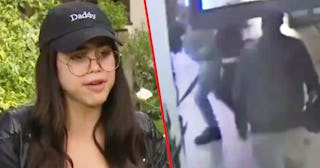 CBS/Twitter
The interview was so tense and so rude, the soon-to-be-arrested, 'Daddy' hat-wearing phone-theft accuser had the nerve to cut off CBS anchor Gayle King
Just hours before Miya 'SoHo Karen' Ponsetto was arrested on Thursday, the 22-year-old — who was caught on camera last month attacking a Black teen after accusing him of stealing her phone — gave an interview with CBS This Morning anchor Gayle King. But this wasn't your average interview. Oh, hell no; this infuriating, jaw-dropping, tenser-than-tense interview had it all: a 'Daddy' baseball cap, a curt cut-off, and slow-clap-worthy post-interview commentary from none other than King herself.
In the interview with King, Ponsetto spoke publicly for the first time since the video of her attacking Keyon Harrold Jr., the 14-year-old son of Grammy-winning jazz trumpeter Keyon Harrold, went viral late December. But instead of acknowledging that what she did was wrong and apologizing for harassing the teen in the lobby of the Arlo Soho hotel in New York City and throwing him to the ground, she called herself "super sweet." She also referred to herself as a "22-year-old girl," and she told King that she didn't mean to feel like she was "hurting his feelings."
"I don't feel that that is who I am as a person," Ponsetto said. "I don't feel like this one mistake does define me, but I do sincerely from the bottom of my heart apologize if I made the son feel as if I assaulted him or if I hurt his feelings or the father's feelings."
But most infuriating about it all was Ponsetto refusing to acknowledge her assault.
"Yeah, the footage shows me attacking his son," she said. "Attacking him how? Yelling at him? Yes, OK. I apologized. Can we move on?"
Ponsetto kept going.
"OK, so basically, I'm a 22-year-old girl. Racism is — how is one girl accusing a guy about a phone a crime? Where is the context in that? What is the deeper story here?"
Gayle responded by explaining that Ponsetto "attacked this teenager about the phone and then it turned out he didn't even have the phone," to which Ponsetto shockingly and rudely cut King off with an, "alright, Gayle, enough" — followed by a dismissive hand gesture.
Gayle had the last word, though, telling her fellow co-anchors that Ponsetto's lawyer said, "'You know, you might wanna remove that hat' and she refused to do that, too. It was an interesting afternoon."
Interesting, indeed. Hours later, Ponsetto was arrested in California, after a joint effort from the Ventura County Sheriff's Office and the New York Police Department, Buzzfeed reports. The publication also reports that deputies contacted Ponsetto during a traffic stop, but she didn't stop for them until she got home. Ponsetto then refused to get out of the car, and officers had to forcibly remove her from the car.
According to the sheriff's office, again per Buzzfeed, Ponsetto is currently being held without bail for a fugitive warrant, and she will be held pending an extradition hearing.
The full CBS This Morning interview will air Monday.