Soleil Moon Frye And Cherie Johnson Reunite For 'Punky' Reboot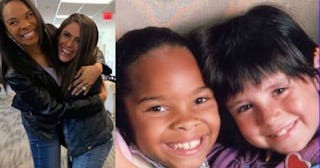 Instagram
Soleil Moon Frye and Cherie Johnson's adorable selfie has us very pumped for the "Punky" reboot
It's been a bit since we got the amazing news that we were getting the Punky Brewster reboot of our childhood dreams, and now, we have some photo proof that the cast is working on the episodes, because Cherie Johnson and Soleil Moon Frye have taken to Instagram to share some very adorable selfies.
Johnson, who played Punky's best friend with the same name on the 1980s classic sitcom, shared a pair of photos yesterday of herself with her costar both back in the day and in the present. "GRATEFUL Never in a million years did I imagine me and this hottie would be working together again! What a complete gift from God! Thank you, Universe, and thank you All Of OUR PUNKY FRIENDS who have grown up with us!" she writes.
https://www.instagram.com/p/B4e-8HhDx-m/?utm_source=ig_embed
"What an amazing opportunity you have given us…we are overwhelmed with emotions. I have cried 2 million happy tears. I am praying for at least 5 seasons and I know we can do it with your help. Punky became a culture for many, taught empathy and life lessons to all of us," she concludes.
Is there dust in anyone else's eyes, or just me? Cool, cool.
Moon Frye shared a photo with their new costar, Freddie Prinze Jr., who is playing Travis, Punky's ex-husband. "My heart is bursting with love for these two," she writes. "Every day is an adventure with you. You shine your light and kindness to everyone around you and make me feel like a kid again. In the best ways. Thank you for being such a big part of making this dream come true."
According to Hollywood Reporter, Prinze's character is, "A musician whose work constantly takes him in and out of town, he nonetheless remains a great dad and has a lingering chemistry with Punky." Sign. Us. Up.
Moon Frye also shared a ridiculously cute cast photo involving her kids on the show and Johnson. "So thrilled to be on this incredible journey with this amazing cast!" she says.
The reboot will feature Punky as the single mom of three kids. It will air on NBC's new streaming service Peacock, which is scheduled to launch in April 2020.