Someone Tell Ava DuVernay To Sign Me Up For Her New Series 'Home Sweet Home'
by Shaye Wyllie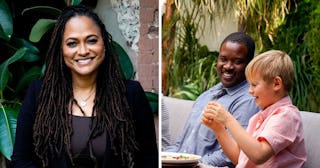 Casey Durkin/NBC
If you haven't already heard, Emmy-winning and Academy Award-nominated executive producer Ava DuVernay has brought a new series to NBC this fall, titled "Home Sweet Home" (not to be confused with Disney Plus's new Home Alone movie titled Home Sweet Home Alone).
One I'm incredibly excited about!
A few days ago, I had the pleasure of sitting in on a Zoom call with Ava, and two of the "Home Sweet Home" families, where I got to listen to them share about their wonderful experience on the show. And after watching the first episode of this interesting experiment myself today, I'm convinced that Ava is a genius.
"Home Sweet Home" pairs two families who lead very different lives together for a life-changing, home-swapping experience.
Both families learn what it's like to walk a mile in another person's shoes, challenging racial, religious, economic, geographic, gender and identity assumptions as they exchange homes for a week and experience the lives of those unlike them. At the end of each episode, the two families meet to share their eye-opening and life-changing experiences.
Episode 1 is emotional, and literally brought me to tears. Which I can only assume will continue to happen through out the rest of the season, as the series, much like "Wife Swap," makes families vulnerable, as they swap homes and lives for a week, with complete strangers.
Although the idea of having strangers in my home sounds a bit crazy right now, it does sound like an experience I'd be open to having. The thought of switching homes with another family to learn about a different culture firsthand intrigues me.
But if the idea of having others in your home scares you, in the first episode one of the Wixx's twin daughters compares going to another home to "diving into a pool." She compared not knowing what the other family would be like, to not knowing if the pool's water would be cold or hot before you go in. Clearly these kids are extremely mature for their young age, and they get it!
The families also make sure to leave a "handbook" (like they did on "Wife Swap") for their new family to follow, so they can really understand what it's like to be them for a week. Which I think is wonderful. Of course, now I'm wondering what I'd include in my own handbook.
However, the experience itself seems amazing, and emotional, but necessary. In a world where racists are now loud and proud about their racism, I commend Ava for bringing us a show that will remind the world that different cultures and families should be celebrated, not just tolerated, or worse — feared. It also reminds us that even though our religions and history may be different, we still have a ton in common!
So if NBC plans on renewing this for another season, count me in! This mama would love to experience another culture firsthand, and swap homes for a week.
New episodes will premiere weekly on NBC at 8pm/7pm C on Fridays, with episodes streaming a day after on Hulu.
This article was originally published on