SONIC's Fried Oreo A La Mode Is Here To Satisfy Every Craving Ever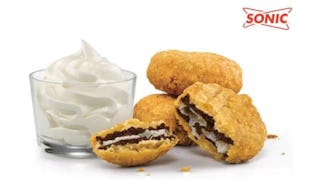 Image via Sonic
Sonic is about to start selling Fried Oreos A La Mode and it looks beyond mouthwatering
Oreos? Good. Ice Cream? Good. Fried things? Gooooood. All three of those together? A whipped, creamy, crispy dream come true. Sonic has created a new treat called Fried Oreos A La Mode and, yes, it's exactly as delicious as it sounds. You're gonna want to plan some extra "me" time, drive straight to Sonic, and head to food heaven for a bit.
Here's the whole buttery, sweet deal. According to Bustle, the treat hits Sonic's menu on January 29th (calendar marked) and the fast-food chain described their new concoction as "perfectly battered and fried to create a delectably crunchy and dippable treat served with SONIC's famous Real Ice Cream." So, the fried Oreos are great and all…but washing all those crispy cookies down with that signature swirly vanilla ice cream? Truly delicious.
Let's all take a moment on this dreary, rainy Thursday to full-on drool.
Suddenly in the mood for some hardcore dessert porn? There's aren't a whole lot of pictures of Sonic's concoction because it hasn't been released yet but here's a little preview of what you might expect to be putting in your mouth very, very soon:
https://www.instagram.com/p/BqATfnCARE5/
https://www.instagram.com/p/BpFXeofFR9J/
Okay, if you can't wait until the 29th to go fully nuts on some deep fried bliss, there's a few other drive-in options to tide you over. You can go the Sonic shakes and floats route, which are classics and never, ever get old:
Or this waffle cone stuffed with so much carmel goodness:
Whatever delicious item you choose, I'd like to wish you a weekend filled exclusively with crispy, butter-y, and ridiculously sweet things.