'Dear Men, Take The Photo'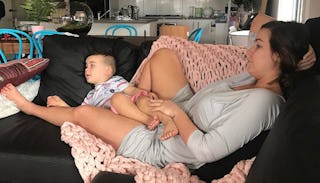 Image via Instagram
All dads need to hear this message
Scroll through your phone real quick and take note of the photos. If you're like most moms, your camera roll is a history of your kids with plenty of cameos by dad, going back however long you've owned your device. What's probably missing is pics of the children with you in them, and that needs to be corrected pronto, as one mom adorably reminds us.
Sophie Cachia, the Australian mom behind the blog The Young Mummy, made a very important point in a recent Instagram post that every dad (and mom) should pay attention to.
https://www.instagram.com/p/BQHNUZDFtzf/?taken-by=theyoungmummy
The photo includes Cachia spending time with her little boy, Bobby, while newborn daughter Florence sleeps. The caption reads, "Dear Men, take the photo. Take the god damn photo. We spend days capturing beautiful moments of you and the kids. So whenever you see one of us with our babies, a beautiful candid moment, take the bloody god damn photo. Cheers, Mums."
A-freaking-men. Moms are typically the family photographer, and that means moms are often left out of the picture — literally. In the age of smartphones, dads are every bit as able to take photos, yet, most don't think to capture those little moments that aren't part of a bigger holiday or event. Cachia's husband just preserved a mundane mom thing — Cachia lying on the couch, idly stroking her little guy's leg — and it's beautiful. This is what every mom will want as her kids get older so she can look back on those special cuddles and un-posed memories.
And let's not forget that dads aren't the only ones to blame for the lack of "mommy and me" pics — some of us bark at our partners if they try to take a candid photo while our hair and makeup is less than perfect. Still. Let him take the god damn photo. Trust me, I have regrets you can learn from.
I can count on less than two hands how many candid photos I have of me with my children. Posed photos? Sure, we have plenty. But documentation of those sweet, everyday moments lazing around on the couch or playing outside is scarce. I remember the times my husband would try to click a few of me with our little ones, and I'd immediately dodge out of the frame saying I looked like shit. Over time, he stopped trying.
Now, my kids are older, and I would kill to have a bunch of pictures like the one Cachia's husband took. As the years go by, the baby and toddler years are starting to fade from memory. Having reminders like this to look back on would be amazing.
Photos of the day-to-day are absolutely priceless, as Cachia recognizes. Hopefully, her post will convince more dads to "take the god damn picture," and more moms to let it happen.
This article was originally published on