A 6-Year-Old Was One Of The March's Most Inspiring Speakers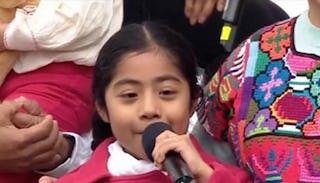 Image via CSPAN
Her words inspired people of all ages
Millions of women marched in protest yesterday, grandmothers and young women and straight moms and gay moms and teenagers and even small children, all of whom got the experience of a lifetime. One of those small children even provided the march with one of its most rousing moments.
Sophie Cruz is a 6-year-old immigration activist who attended the Women's March in Washington D.C., and, flanked by her parents and younger sister, gave a moving speech to the crowd of hundreds of thousands who gathered to celebrate women, fight for equal rights, and protest the new administration's policies.
Her speech focused on hope and unity, and on building "a chain of love" to protect the families being threatened by the Trump administration's exclusionary and divisive rhetoric towards Mexicans, Muslims, and immigrants in general.
"Let us fight with love, faith and courage so that our families will not be destroyed," Cruz says. "I also want to tell the children not to be afraid, because we are not alone. There are still many people that have their hearts filled with love. Let's keep together and fight for the rights. God is with us."
As if giving a speech at age six, in front of an enormous crowd and broadcast on CSPAN wasn't impressive enough, this wasn't the first time Sophie Cruz has made news by being eloquent and outspoken in the name of something she believes in. In 2015, she beseeched Pope Francis, asking him for help in defending DAPA, President Obama's Deferred Action for Parents of Americans and Lawful Permanent Residents.
What an impressive young girl.
Sophie's speech, was inspirational, galvanizing, and heartfelt, underscoring the very real fears many of us feel at the prospect of President Trump actually fulfilling his campaign promises. And the issue of immigration was just one of many topics that spurred yesterday's historic marches.
No one knows for sure what the next four years will bring, but there's no doubt that the Trump administration has an opportunity to enact change that will reverberate for generations. This is what makes hearing from children so meaningful, because they stand to be living with the impact of that change for decades.
That's one of the reasons it's so heartening to see young women like Sophie Cruz, and the Detroit high schooler who spoke up at Betsy DeVos's nomination hearings, making their voices heard. It's more important than ever for the people to stand up for what they believe in, and while the next four years may be rough, it's encouraging to know that the future's in such good hands.