Sophie Turner Gets Real About Her Battle With Depression During 'Game Of Thrones'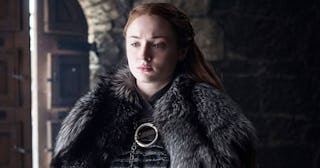 Image via HBO
Sophie Turner says she cried while getting out of bed on days when her depression hit her hardest
Game of Thrones actress Sophie Turner is opening up about her mental health, publicly sharing her years-long battle with depression for the first time. She says she suffered from depression while working on the hit HBO show, and that social media played a huge role in it.
During an appearance on Dr. Phil's podcast, "Phil in the Blanks," Turner says the depression began when she was 17. Turner, who plays the eldest member of the Stark family, Sansa, says she suffered from serious depression for four or five years. She said she felt alone after her friends and brothers moved away for college — because she was working on Game of Thrones and living with her parents.
https://www.instagram.com/p/Bvz5_6cB2zV/
Turner, who is now 23, says reading negative comments about her appearance on the show was a "catalyst" in her battle with depression. She even asked the costume department to tighten her corsets to make her look slimmer.
"I would say, 'Yeah, I am spotty. I am fat. I am a bad actress,'" she says. "I would just believe it … I just got very, very self-conscious. I had no motivation to do anything or go out. Even with my best friends, I wouldn't want to see them… I would cry and cry and cry. Just having to change and put on clothes, I said, "I can't do this. I can't go outside. I have nothing that I want to do."
https://www.instagram.com/p/BvedlF8homg/
Turner has always been extremely close to Maisie Williams, the actress who plays her younger sister, Arya, on Game of Thrones. She says Williams was the only person who truly knew the extent of her depression. "I think being friends with each other was quite destructive because we were going through the same thing," she admits. "We would get home from set, go to a little supermarket across the road and just buy food. We'd go back to our room and eat it in bed. We never socialized for a couple of years."
You often hear the phrase "depression doesn't discriminate," and while that's kind of a concrete way of looking at mental health as a whole (because of course it doesn't discriminate), it's important to remember that celebrities are people, too. And becoming super famous at such a tough, critical age, has so many pitfalls. Navigating teenage superstardom while reading what trolls are constantly writing about you online sounds like hell, honestly.
Thanks to a combination of medication and therapy, Turner says she's doing much better these days when it comes to loving herself. She also credits her fiancé, Joe Jonas, with being a great support system to her. "I'm now with someone that makes me realize, you know, that I do have some redeeming qualities, I suppose," she says. "When someone tells you they love you every day, it makes you realize why that is. I think it makes you love yourself a bit more."
She knows it's an ongoing struggle, though, and that it takes work to feel better. "The biggest challenge is just for me getting out of bed and getting out of the house and learning to love yourself I think is the biggest challenge."
This article was originally published on