Sophie Turner And Joe Jonas Leave Billboard Awards, Marry In A Vegas Chapel
by Valerie Williams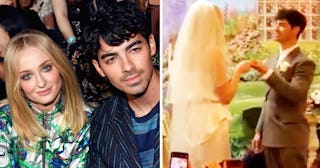 Jeff Kravitz/FilmMagic/Getty and Diplo via Instagram
Sophie Turner and Joe Jonas' chill Vegas wedding was everything
Absolutely no big deal, but last night, Game of Thrones star Sophie Turner and Jonas Brother Joe Jonas very casually left the Billboard Music Awards and got themselves married. Their wedding had it all — a Vegas chapel, ring pops, an Elvis impersonator, and a super famous DJ live-streaming the good bits.
Yes, Diplo live-streamed and shared the footage in his Instagram stories where it was immediately picked up and spread all over the internet, because content this good doesn't come along every day. He got the couple saying vows and swapping Ring Pops and at a few points, the Elvis officiator had a dog filter on his face. Honestly, it was everything.
People reports that Nick and Kevin Jonas both served as groomsmen, of course.
Speaking of the bros, wonder what Nick and new wife Priyanka Chopra thought of the extremely spontaneous nuptials? They had approximately one dozen wedding ceremonies (LOL JK, they had two weddings and then several receptions, as is tradition in Chopra's culture). It looks like Joe and Sophie said "nah" to all the pomp and circumstance and did their own thing. Judging by the pics and video, everyone was very good with it.
Turner looks like a complete vision in her veil and white dress.
The country duo Dan + Shay strummed an acoustic version of their song "Speechless" for the happy couple.
It was pretty much the cutest and cue one zillion women crying that there's now one less technically available Jonas brother (Frankie is still out there somewhere!).
Before the wedding, the brothers performed at the awards with their adorable wives, who adorably refer to themselves as "The J Sisters," cheering them on.
Sophie and Joe announced their engagement in October 2017 after dating briefly, but clearly, the romance is solid nearly two years later. And holy smokes, that ring is gorgeous.
They seem to have an easy way with each other and an excellent sense of humor when they interact — check out Sophie trolling Joe's sweet, jokey video about who's sitting next to him at the Billboard Awards last night. "So where you from? Sweet, yeah, I love the UK. It's so beautiful. You uh, heard of the Jonas Brothers? No? Okay…" he says.
She commented, "Try all u like slut u ain't gettin this." Can she be our BFF now please? Thanks.
Yesterday, the Jonas Brothers announced a 40-date North America tour, their first in nearly a decade. Let's just hope that Sophie and the other "J sisters" will be along for as much of it as possible so we can see more of this adorableness.