Sophie Turner Nails Why It's Not OK To Joke About Mental Health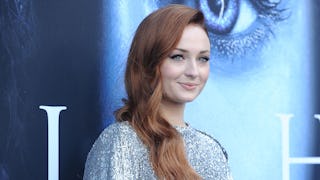 Image via Jason LaVeris/Getty Images
Sophie Turner isn't going to be silenced about mental health
Sophie Turner has never been one to back down from her beliefs. So when she saw Piers Morgan spewing his usual nonsense on Twitter, she decided to take a stand. The result was a thread about mental health that everyone should read, immediately.
This all started when Morgan tweeted some comments made by Beverley Callard, an English actress, who got candid in an interview about her own struggles with depression.
"Real mental illness is very dark and it takes a great deal of strength to ask for help," she said. "I think we are now definitely chipping away at the stigma."
But then, she added this gem.
"But we have to be careful mental illness doesn't become like a Gucci handbag. There is a danger it can become 'fashionable.'"
Here we go again, with people treating mental illnesses like they aren't real illnesses. Would anyone ever accuse Shannen Doherty and Julia Louis Dreyfus of trying to make breast cancer "fashionable?" No. They'd shut up and wish them well with their cancer treatments. Maybe offer them a casserole. But anyway, I digress.
Morgan, on the other hand, agreed with what Callard had to say.
Turn did not, and she decided to take Morgan on, including calling him a "twat," which is just so deserved.
She then made a very valid statement about how celebrities are not making mental illnesses fashionable, but using their platforms to help erase the deadly stigma that surrounds these diseases. And then she launched into a thread about why that stigma needs to be erased. It's because removing the stigma from conversations about mental health saves lives.
She also encouraged non-celebrity folks to speak out about their own heath. Every voice counts when it comes to getting rid of this stigma.
Bless UP, Sophie Turner.
This isn't the first time Turner has spoken out about mental illness. On last year's World Mental Health Day, she had this sweet message for any of her followers who are fighting those battles.
And other celebs have been speaking out about their own mental health struggles and triumphs lately, too, including Ariana Grande and Emma Stone.
Mental illness will never be fashionable, because it's literally a deadly disease. At least we have some influential people in the world who get that, and hopefully they keep on telling Piers Morgan to take several seats.