This Isn't A Cruise Ship, And I'm Not An Entertainment Director
by Colleen Dilthey Thomas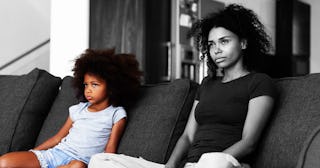 Scary Mommy and fizkes/Getty
"I'm bored." "There's nothing to do." "We don't have anything to eat." "I hate just sitting here." I hear this kind of stuff all the time. For some reason, my children are under the impression that they are living on a luxury yacht and I am this cruise's entertainment director. Perhaps I should print out my job description and we can all review it together. I know there are a few lines regarding keeping people clothed, fed, and sheltered. I remember the part about loving, protecting, and educating. I do not, however, recall the clause that says I should throw on my tap shoes every morning at 11 am for a show. These people need to check themselves.
Don't get me wrong, my kids aren't spoiled brats, they just want to live a much more fast-paced life than they are going to get with me. They love to go to school because there is something going on all day long. It's not like that at home. I don't ring a bell every 45 minutes and shuffle them from one room to another to do something new. I guess I could set a timer and change the channel on cue, if that would make things more exciting. Shit, I'd even throw in a bag of microwave popcorn and a soda to really up the ante if that'd make them happy.
I adore my children. I really do. They are the first thing I think about in the morning and my final prayer before I close my eyes. I want their childhoods to be filled with magic and wonder and happy memories. But Jesus Christ! I can't make memories with them every damn day. Some of these afternoons they're just going to have to settle for the mundane, dog days of summer.
Maybe the fact that I make exaggerated, bold statements about ordinary tasks is the source of confusion. Saying things like, "I have got to go to the grocery store. I haven't been in two weeks, this is going to feel like hitting the jackpot, kids," makes things sound a bit more exciting than just grabbing milk and eggs. If they are expecting a cash prize at the end like we're on Supermarket Sweep, they're thoroughly disappointed when I say that we have to bag our own loot at Aldi. I suppose it's a perception versus reality thing.
Seriously, why can't going to the store be enough? Whey does a fun day have to include buzzwords like admission, tickets, and concession stand? If there isn't a line to get in, that you will moan and complain is entirely too long, is it even worth it? I guess not. If you really want the day to be worthwhile, it better start off with an armband and the words, "Meet me back at the statue at noon for lunch." It's not fun if there isn't a cool refillable cup for $10.99.
But that isn't going to work for me this summer. My kids are going to have to be a bit more self-sufficient. We live in a 2,500-square-foot fun house with adventure at every turn; they're just going to have to find it on their own. There is plenty to do; they may just have to use a little creativity to get there.
Dear kids: Here are five things you can do before telling me (again) that you're bored.
Grab a Toy
Head on down to the basement and grab one of the 500 toys you had to have and take it for a spin. You know, the stuff that I keep threatening to sell at a garage sale because no one ever plays with it? There are thousands of dollars of things down there to keep you from being bored. Use your imagination.
Find a Sibling
We have a house full of children — find a friend. I made it convenient for you by having four kids; you can pair off nicely to play. Grab a game or some cards, watch a movie, and just be nice to each other.
Clean Something
There are dry erase boards all over the house with jobs for you to do. You have to get your chores done anyway, so why not fill some time and cross a few things off of the list? You know it's much easier if I am not yelling at you to do it anyway.
Make Yourself a Snack
You have been taught how to cook simple things. If you are hungry, head to the pantry and whip something up. You do not need me to prepare all of your meals. Find a friend and make something together. Just be sure to clean up after yourselves.
Watch TV
I am not locking down screens this summer. If you are bored and want to watch TV or play a video game, go for it — just don't spend all day in front of a screen. Mix it up a little bit.
If this doesn't work, I can certainly think of lots of things that they can do to fight their boredom. This might finally be the summer when I say goodbye to their baby clothes. I bet they'd love a ride next to me on that emotional roller coaster. Or, maybe someone would like to join me in re-organizing my closet by color, size, and sleeve type? Anyone up for a game of "empty the china cabinet" or "clean all of the goblets and platters"? If none of that sounds good, we could always have a 3pm viewing of the very best of my high school musical career.
And just like that, they'll scatter like roaches in daylight….I'll have the couch all to myself as I relive my golden years in "Jesus Christ Superstar."
They'll never know what they're missing!
This article was originally published on