Warning: This Video Will Give You Puppy Fever. Serious Puppy Fever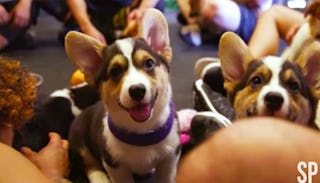 Soul Pancake aims to answer the question, 'Do puppies cure boredom?'
We all know "baby fever" is a thing. You know, that overwhelming urge you get to have another child, even though your kids are grown and infants are hard as heck. But apparently puppy fever is a thing too, and the entire internet has it after seeing this video.
Soul Pancake teamed up with Purina to show just how much everyone loves a puppy. Soul Pancake is the media and production company founded by Rainn Wilson. It creates feel-good content and sometimes works to raise money for deserving causes. This time, the cause is Rescue Bank, a nonprofit organization that donates supplies to animal rescues and shelters.
Soul Pancake wanted to answer the question, "Do puppies fix boredom?" You probably know the answer to this question, but the video is too cute to miss. And for each view of the video between March 23 and April 23, Puppy Chow will help feed shelter puppies in need by donating one pound of the new Puppy Chow Natural formula – up to 500,000 pounds – to Rescue Bank.
Yup. Puppies cure boredom. It's official.
This article was originally published on