This 'Unicorn Farts' Beer Is Brewed With Glitter And Fruity Pebbles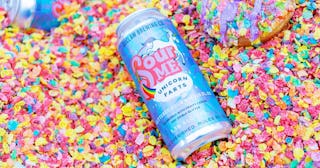 DuClaw Brewing Company
Sour Me Unicorn Farts beer is made with edible glitter plus Fruity Pebbles
Back in the day, beer was just beer. Sure there was dark beer, light beer, and different types of ale in cans, bottles, or on tap, but really, it was just… beer. Now that we are well into the 2000s, brewers have gotten super clever and adventurous with their beer brewing skills. Well, we have something new for you to look forward to in 2020. Maryland-based DuClaw Brewing Company and partner Diablo Doughnuts have announced that after a limited run earlier this year, their Sour Me Unicorn Farts beer, will be making a comeback in 2020. And no, absolutely no unicorns were harmed in the making of this colorful beverage.
Sour Me Unicorn Farts beer also isn't made with any farts. (Sorry to disappoint!) Instead it is a concoction of Fruity Pebbles cereal and edible glitter. It might be the most Instagrammable hoppy beverage you have ever seen, because it literally shimmers, according to those who lucky enough to try it out already. "This glittered sour ale with fruity cereal mashed in, brings slightly tart sour, a bouquet of fruits & a hint of biscuit," reads the description on their website.
But what is even more next-level than the beer itself is the brilliant advertising campaign they have launched on social media. Remember Lizzo's viral Skittles bathtub photo? You know, the one where she is naked in a tub full of the colorful candies? Well, DuClaw's main brewer and the owner of Diablo Doughnuts has shamelessly recreated it.
In the series of Instagram photos, the grown man bathes in a tub filled with 32 boxes of Fruity Pebbles — and Sour Me Unicorn Farts beer of course.
"100% that glitter beer. Coming: June 2020.🌈👅🌈 ⚡," he hilariously captioned the images.
Once the beer is released, you will have to hop on it (no pun intended) as it is only going to be a limited release, per the website. Until then, you will have to settle for unicorn cocoa — or you can try making your own unicorn beer by smashing up Unicorn Fruit Loops into a Budweiser and calling it a day.