South Carolina Foster Agencies Can Now Legally Discriminate Against Same Sex Couples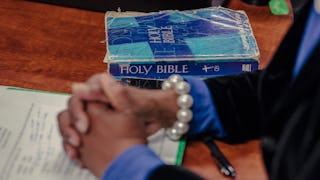 Image via Jacob Biba for The Washington Post/Getty Images
South Carolina can also legally discriminate against non-Christian couples too
The federal government has agreed to make it legal for federally-funded foster care agencies in South Carolina to deny foster services to same-sex or non-Christian couples.
Yep, even though these agencies receive federal money, they are now allowed to discriminate against LGBTQ couples and non-Christians.
Greenville's Miracle Hill Ministries, one of the agencies supported by the discriminatory waiver approved by the U.S. Department of Health and Human Services, is still allowed to consider itself a state-supported foster care agency. All while legally denying perfectly loving families the right to foster children.
The waiver does require any family who is denied by Miracle Hill the chance to be referred to other agencies or the South Carolina Department of Social Services. Though Miracle Hill has been around for decades, its recruiting policy has come under fire before. The Obama administration implemented a regulation that agencies who receive federal funds were prohibited from discriminating on the basis of religion.
It should come as no surprise that the Trump administration is responsible for this new waiver. South Carolina's governor, Henry McMaster, is a Republican Trump supporter who actually requested the waiver. According to McMaster, Miracle Hill is responsible for approximately 15 percent of foster care placements in the state of South Carolina.
"As Americans, our fundamental right to practice religion, regardless of our faith, will not be in jeopardy under this administration," he said in a statement.
Apparently in South Carolina, it's perfectly fine to jeopardize children who need loving, stable homes — as long as the "religious freedoms" of politicians and foster agency administrators aren't impeded. How noble.
The American Civil Liberties Union completely disagrees with the federal government's decision. While there are currently eight states who can legally allow child agencies to exclude prospective families based on religion, this is the first time the federal government has approved such discrimination.
"There are more than 400,000 children in foster care around the country, and today the Trump administration has turned its back on each of them," Leslie Cooper, deputy director of the American Civil Liberties Union's LGBT & HIV Project, says in a statement.
While most of Miracle Hill's funds come from donations, the amount it receives in reimbursements from the Department of Social Services is nothing to brush off — they get about $600,000 a year from federal funds. So much for separation of church and state, huh?
The Anti-Defamation League tells Greenville News the decision to allow discrimination is "shameful, illegal and immoral," and that it allows a "government funded foster care agency to openly discriminate against Jews, gay couples and others who don't follow their faith."
The ACLU wants Congress to exercise its power of oversight to stop the waiver in South Carolina from inspiring other states to request the same power of discrimination. "Prospective foster and adoptive parents should be judged only on their capacity to provide love and support to a child — not their faith," Cooper says.
This article was originally published on