28-Year-Old South Carolina Teacher Dies From COVID-19
by Cassandra Stone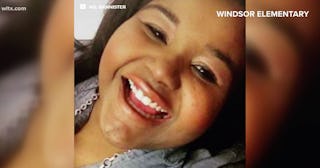 Windsor Elementary
Demetria Bannister had just started her third year of teaching third grade on August 31
A third-grade teacher in South Carolina has died from COVID-19, according to the Richland 2 School District. Demetria "Demi" Bannister, had just begun her third year of teaching third grade on Aug. 31. She was diagnosed with COVID-19 on Friday and died Monday at just 28 years old.
A teacher in Richland's Windsor Elementary School in Columbia, Bannister was loved by all within the school community. She was last at the school in person on Aug. 28, during a week of teacher in-service days before the school year began. She began teaching the following week from home, according to officials. The district said it is tracing anyone who had close contact with Bannister and instructed custodians to deeply clean the school.
"Known as Windsor's Songbird, Ms. Bannister used her musical talents to bring a great deal of joy to our school," Denise Quickel, principal of Windsor Elementary, told WCNC Charlotte. "For our school's Attendance Matters kick off in 2019, she wrote a song about the importance of coming to school to the tune of 'Old Town Road'. The song and video were a big hit with our school family. Ms. Bannister loved her students and never missed an opportunity to advocate for students and public education."
According to WCNC, Bannister led the school's student choir and hosted a student club for aspiring singers. She served as a 2020 Team Leader and always helped lead school spirit initiatives.
So far, no other teacher deaths have been reported in the state. Students in South Carolina have been returning to school over the past few weeks, as all students in the state were required to be back to school by the day after Labor Day. Most South Carolina districts are allowing students to attend classes in person at least one day a week.
South Carolina reported just 250 new COVID-19 cases on Wednesday, the lowest since June 3. But officials also reported a lower number of people tested: 1,744, which translates to a 14% positivity rate. Health officials remain concerned because the virus is still spreading — particularly through people who show no symptoms.
Richland 2 officials said Bannister's parents gave them permission to share the information about her death, and to remind people that COVID-19 is extremely serious. Bannister's family is urging people to take proper precautions during the ongoing pandemic, despite the fact that the president and his administration continuously downplay the severity of the virus and that half a million children in the U.S. have already tested positive.
"I want to express my sincere condolences to Ms. Bannister's parents, relatives, friends and school family," said Richland 2 superintendent Baron David, per WCNC. "While gone from us too soon, Ms. Bannister's legacy lives on through the lives of the students she taught in her five years as a dedicated educator. To honor Ms. Bannister's memory I ask the Richland Two family to join me in reaffirming our commitment to doing all we can to provide premier learning experiences for all students in the safest environment possible and doing our part to slow the spread of COVID-19."